by Jutta on Mar.11, 2014, under this'n that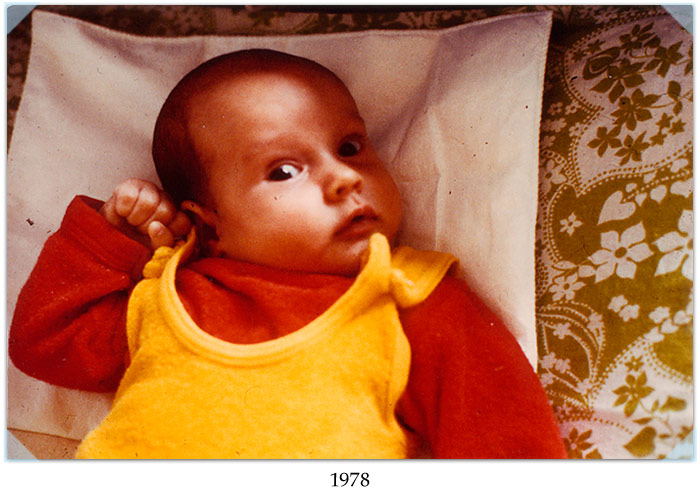 Susanna had a challenge on her blog to post childhood photos of yourself. I don't usually feel comfortable posting photos of myself, but for some reason here I got carried away. (Although still I feel uncomfortable and unsure whether I should post this or not.) I've had glasses since 5 years old and braces for half of my childhood and adolescence. Maybe that's why growing up I always felt like the ugly sister. Only in recent years have I realized maybe I don't look as bad as I thought. But still I tend to shy away from the camera unless I'm the one holding it.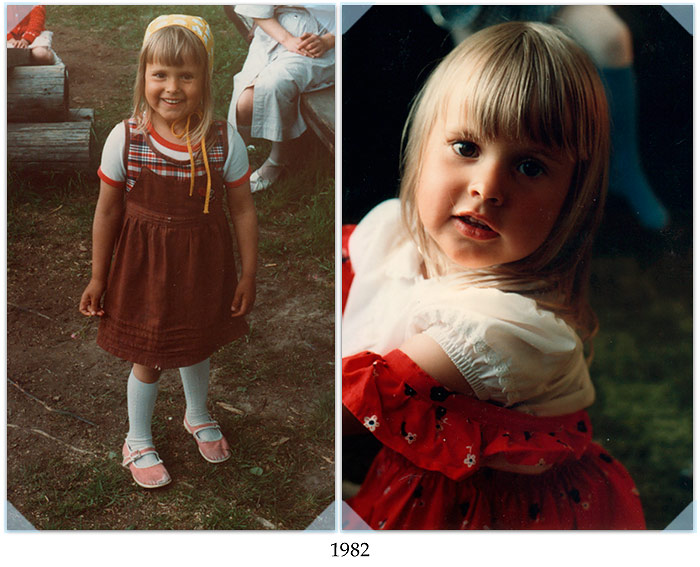 Anyway, this turned out to be more of a cavalcade of different hair styles throughout the years. For most of my childhood this was the style.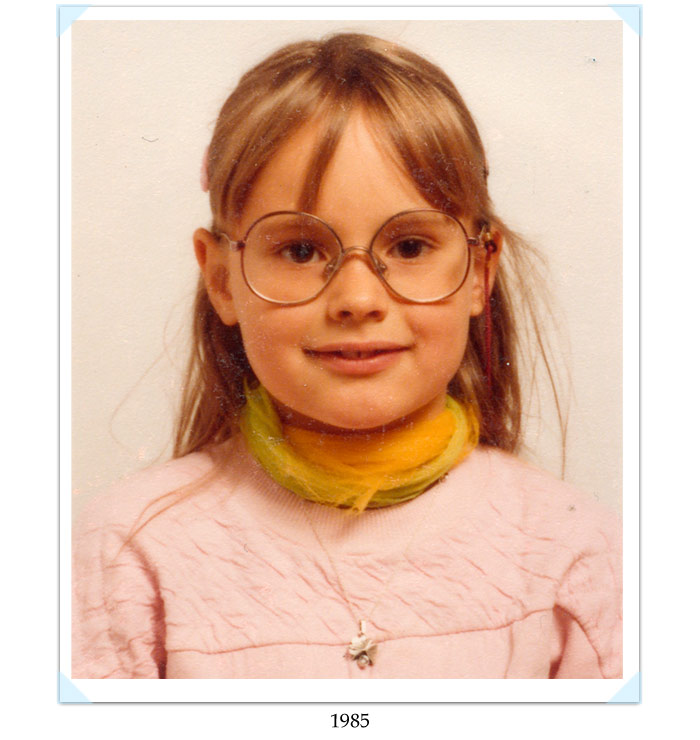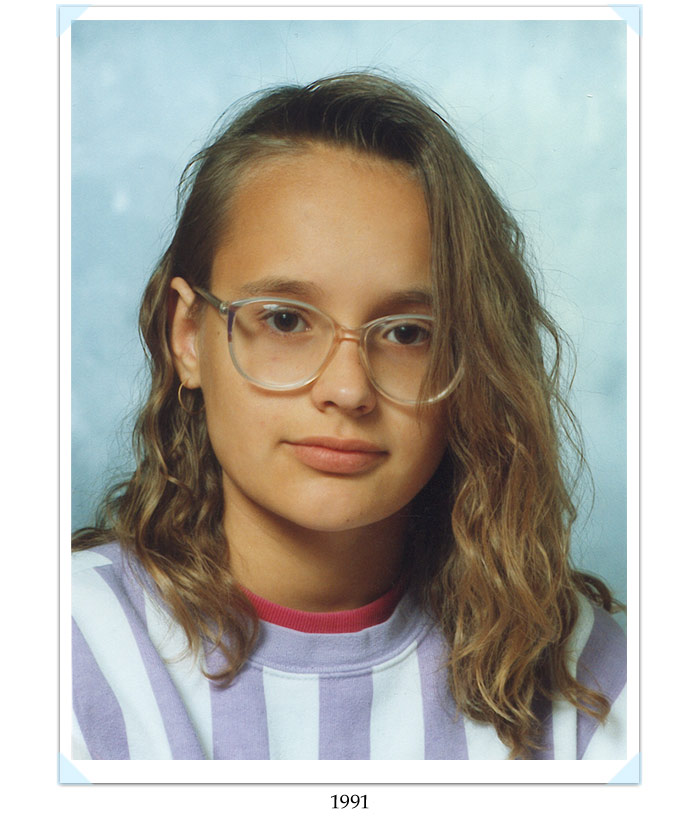 Until I realized perm was the thing. WHAT was I thinking??! Must be the most embarrassing photo ever, makes me cringe every time.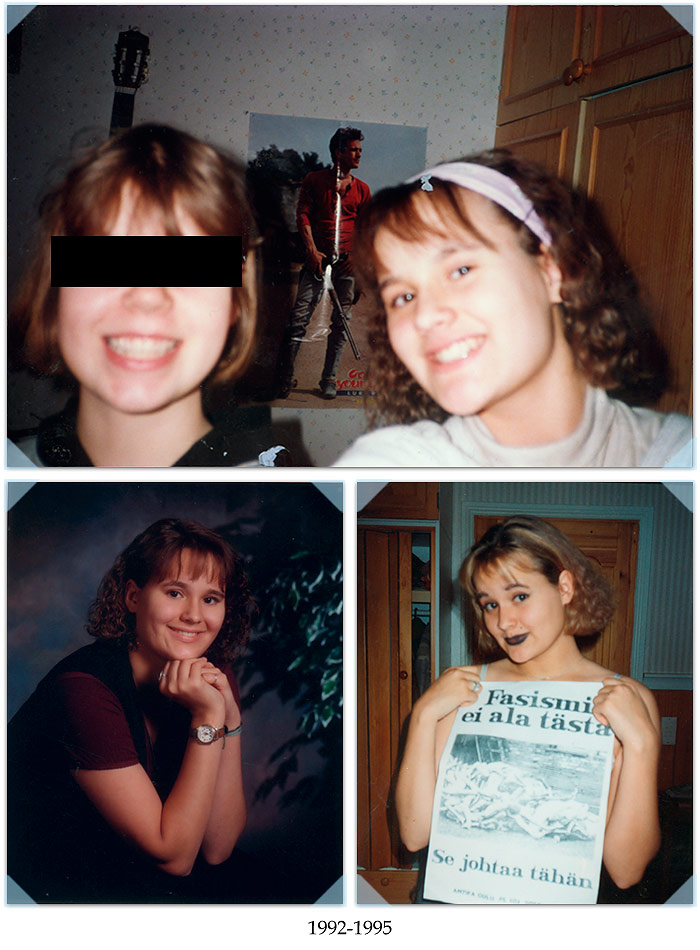 And it didn't end there…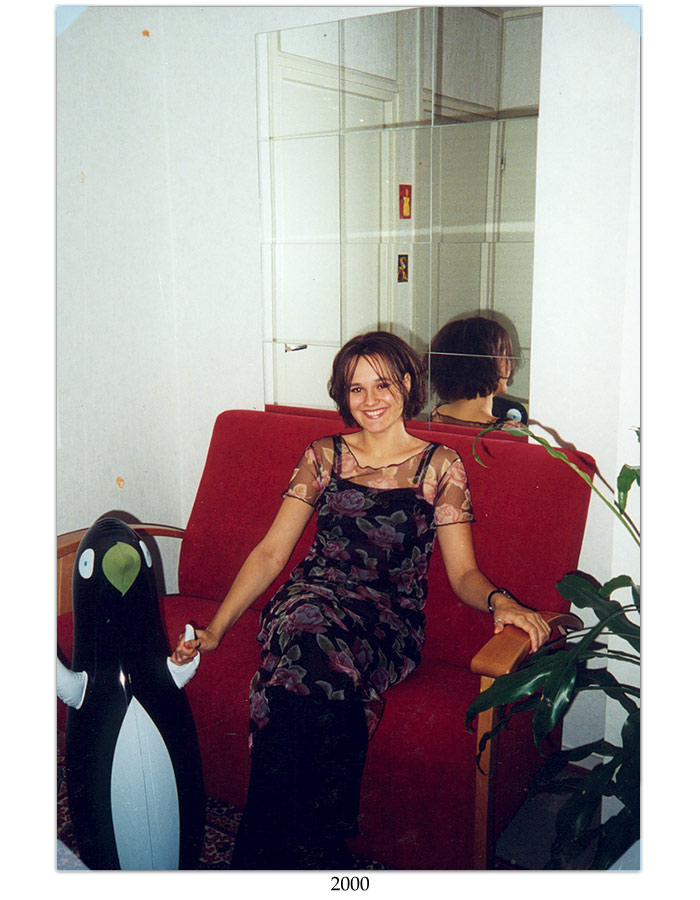 By 2000 the perm as gone – permanently, I would like to say.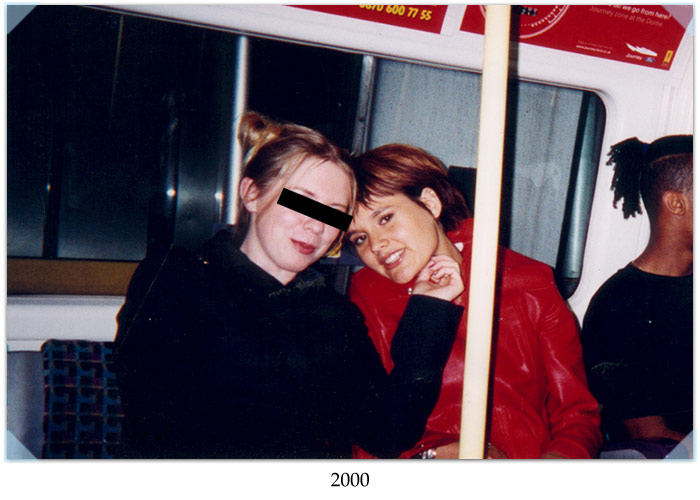 That same year I finally found a decent hairdresser. She showed me the way.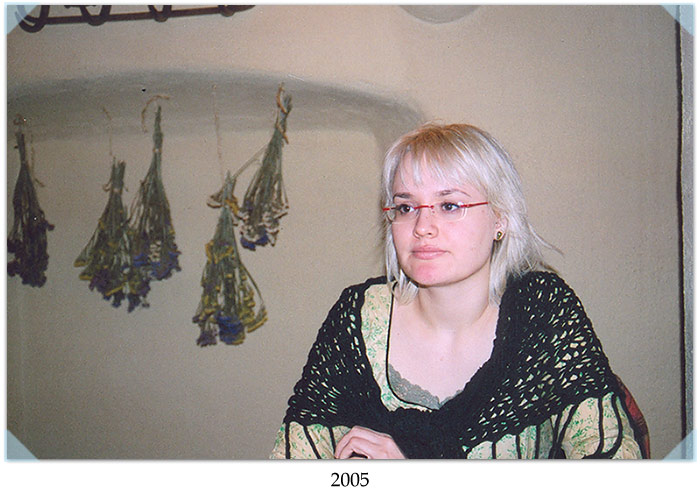 I've even gone blonde for a couple of times. Must say that when you are blonde with long hair, people do treat you differently. Blondes, have you noticed?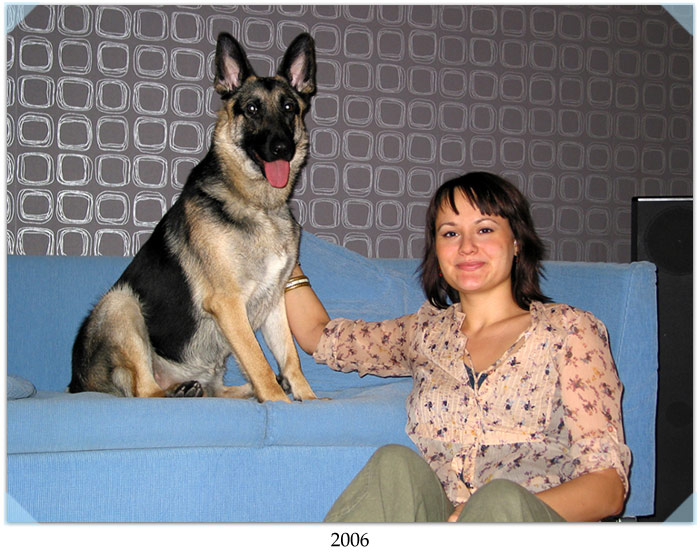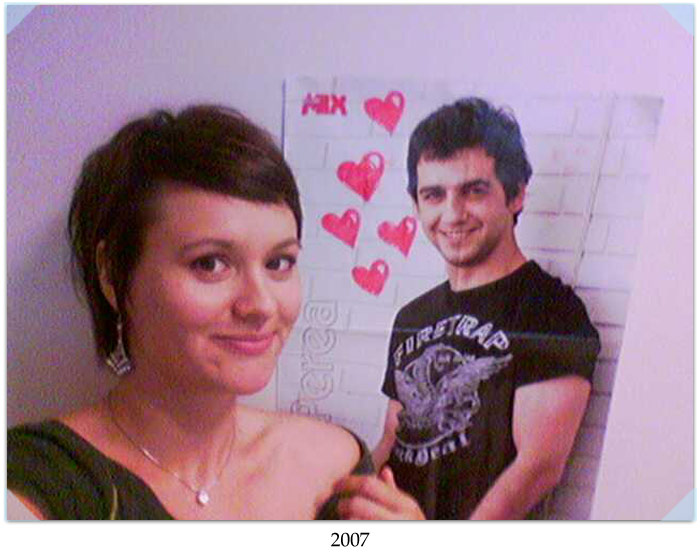 2007 I understood short is my style. I also was in love with Fran Perea from Los Serrano. Here we share a moment in the office.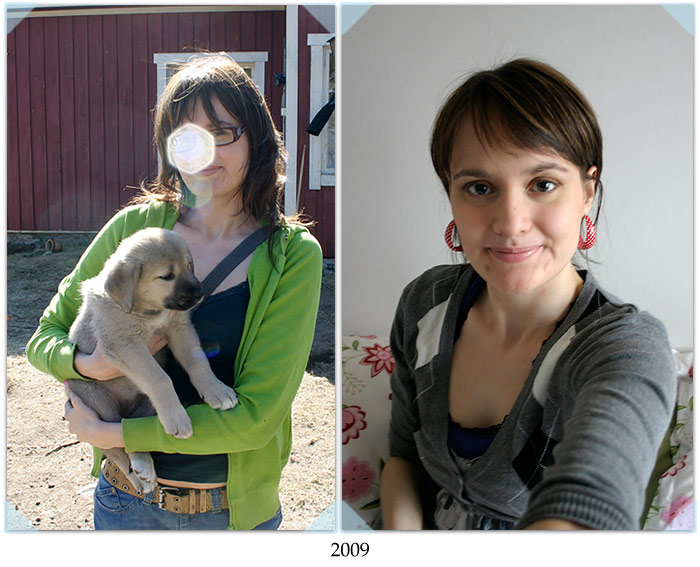 2009 saw a minor relapse when I grew my hair long for our wedding. And even got a weave. Not my thing at all, the bloody thing was painful, didn't look good and needed lots of work. Mostly I tied it back. But since I'd paid fortunes for it I wore it for six months.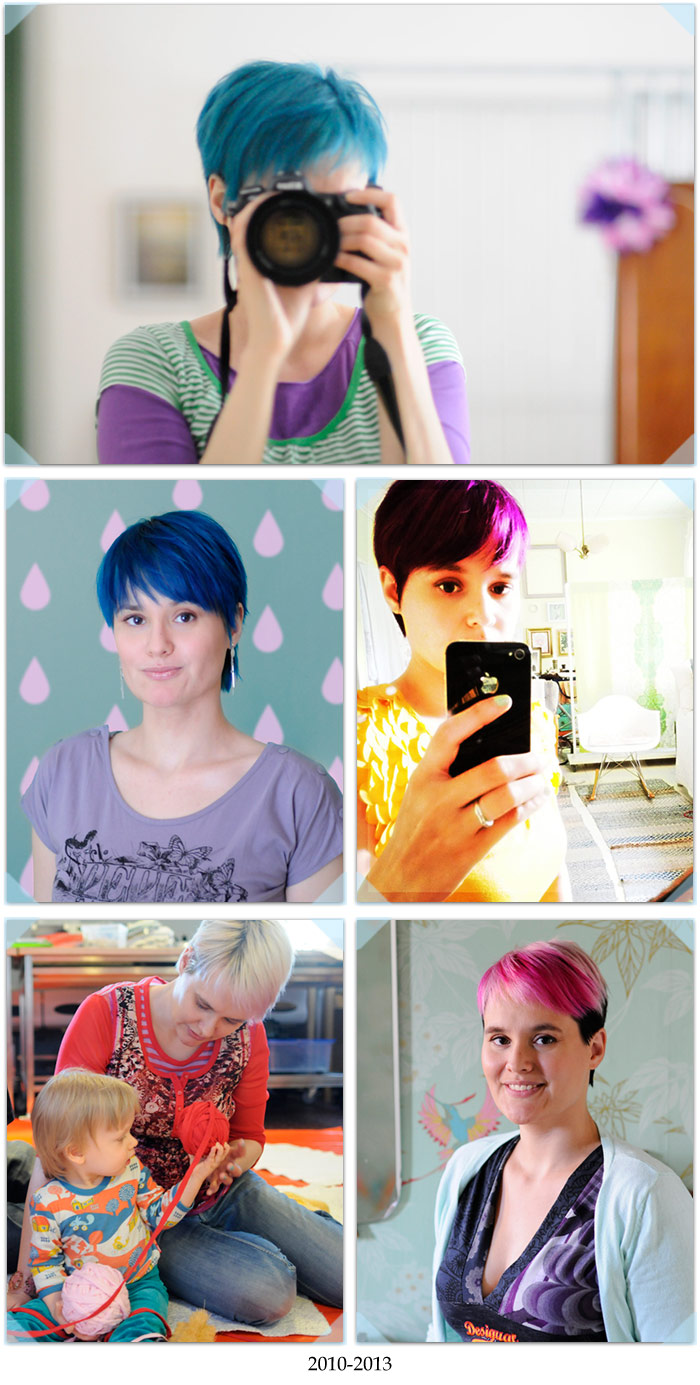 For the last years my hair has been pretty much the same. Short but changing colors. Now I've got pregnancy hair, mostly natural color with some red touches, so it doesn't need dyeing often. Looking at these photos I've started started to think I need change. What should I do next, maybe long hair again???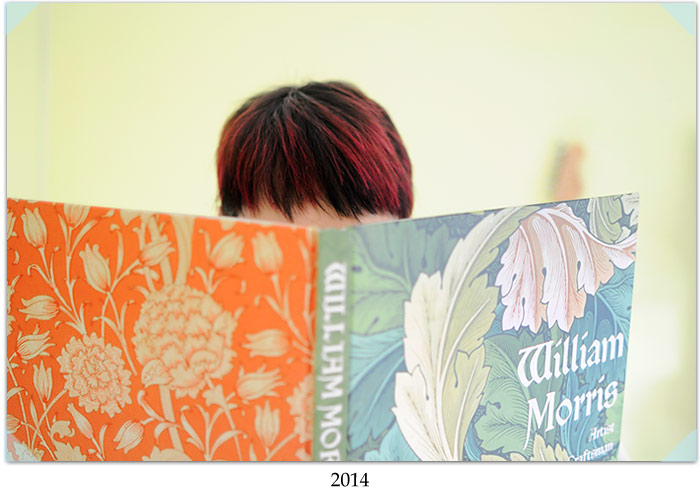 If you'd like to share your childhood or hair style photos, please do! And leave a link in the comments so I can see them :)
In Finnish / Suomeksi
Susannan blogissa oli haaste jakaa lapsuuskuvia itsestään. Tavallisesti en kauheasti tykkää näyttää naamaani täällä, tai kuvissa muutenkaan. Olen tosi epäkuvauksellinen ja yleensä piileskelen kameraa ellen itse ole kuvaamassa. Välillä vähän harmittaa, että perhekuvissakin on melkein aina pikkumies ja Panu, minusta näkyy vain vilahdus kun pakenen paikalta. Pienenä minulla oli lasit 5-vuotiaasta lähtien ja puolet lapsuudesta ja teini-iästä raudat. En tiedä liittyykö siihen, mutta ajattelin aina olevani se ruma sisko. Viime vuosina olen tajunnut, etten ehkä näytäkään niin karsealta kuin luulin. Mutta silti mieluummin pysyttelen pois kameran tieltä.
No mutta aiheeseen. Tästä tuli näköjään enemmänkin hiustyylien kavakaadi. Innostuin kaivelemaan hiuskuvia lapsuudesta tähän päivään. Kaikenlaista enemmän ja vähemmän noloa sitä onkin tullut testattua. Varsinkin teinivuosina… Ärgh! Permiksen lisäksi hiustenpidennykset oli melkoinen vikatikki. Hääkampauksessa ne näytti hyvältä, mutta ne maksoivat niin tuhottomasti, että pidin niitä vielä puoli vuotta häiden jälkeen. Päänahka oli ruvella, eivätkä ne edes näyttäneet kovin hyviltä. Lähinnä pidin sen aikaa hiuksia kiinni.
Viime vuodet hiustyyli on ollut lähinnä lyhyt vaihtuvilla väreillä. Tällä hetkellä tyyli on raskaustukka. Omaa väriä ja vähän punaista, ettei tarvi turhan usein värjätä. Mutta näitä kuvia kun katselee, tulee kauhea hinku muutokseen. Mitähän uutta sitä keksisi??
Olisi kiva nähdä muidenkin lapsuus- ja/tai hiuskuvia! Jos teet postauksen niin laita ihmeessä linkkiä kommentteihin niin pääsen katsomaan :)