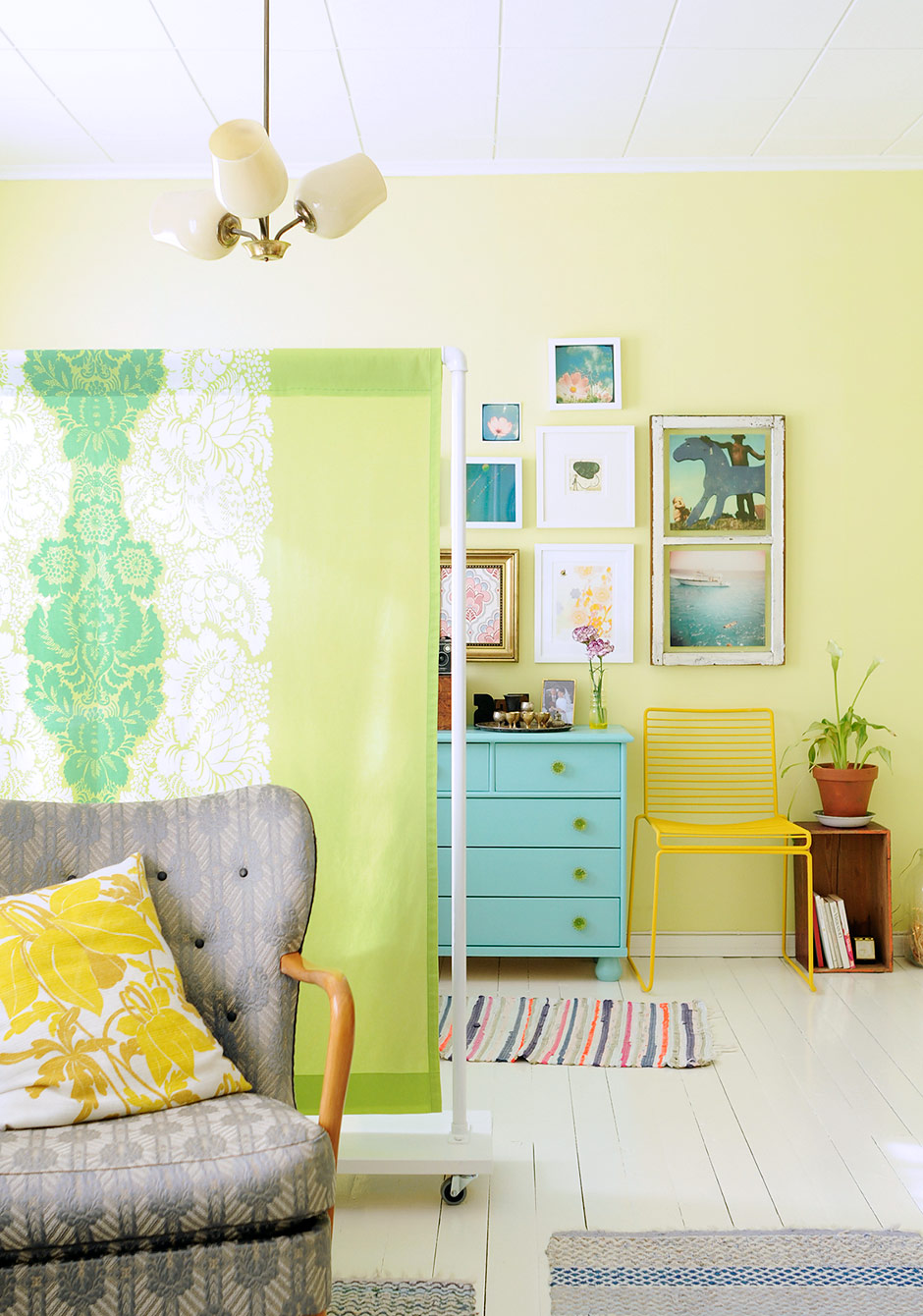 Building a screen / rack
---
Now we have a screen! This was such a fun and shared project, I truly couldn't have made it without you guys. Thank you for your great ideas! We ended up building the rack ourselves with instructions from Design*Sponge. We opted for the DIY version because we needed a very specific size. The space also clearly called for a white rack.
You can find great instructions on Design*Sponge. We had to do some adjustments though, mainly due to the larger size of our rack. I thought I'd share with you the process.
Here's what you need if you want to make your own screen / rack:
Steel plumber's pipe, 3-4 pieces. You only really need 3 pipes, but we got the fourth one to serve as a weight in the bottom. The pipes come in two finishes, galvanized and black. We got black because they were cheaper and we were going to paint it anyway. In hardware stores you can get them in standard sizes (in Finland 1 m, 1,5 m and 2 m). The measurements weren't quite right so we ordered custom cut pipes from a local plumbing shop. We ended up getting two 145 cm (57″) and one 130 cm (51″) piece, all 3/4″ thick.
Wood board. We had ours cut to measure at a hardware store, it's 150 cm long, 30 cm wide and 3 cm thick (59″ x 12″ x 1,2″).
2 elbows to connect the pipes and 2 flanges to attach them to the board
4 castors
16 screws and washers to attach the castors
4 bolts and nuts to attach the flanges to the board
Primer and paint. I used primer that suits both metal and wood, plus semi-glossy window and door paint.
Paint brush
Fabric
Needle and yarn (possibly a sewing machine and buttons)
Get so excited about the project that you forget to think. Screw the pipes together tightly with the elbows to form a massive U. Only then realize that black iron pipes might be rusty and need sanding (especially if they are orange all over) and that handling them is a lot easier if they are not stuck together.
Iron dust gets stuck everywhere, so unless you have an area where it doesn't matter, drag your U-shaped construction outside. After sanding, drag it back in (if it's below freezing point outside) and wash it with soap and water. Galvanized pipes don't need sanding, just a wash.
Or – first sand and wash, then screw tightly.
Sand the board if there's any rough spots. I also wanted to round the corners a bit. Wipe any dust off with a moist cloth.
Screw the flanges on the pipes and measure where you want them on the board.
Flip the board and measure where you want the castors to be. We tried 1 cm (1/2″) from both edges, but the wood chipped. In the end Panu screwed them about 2 cm (1″) distance from the edge.
Because our rack is very top-heavy, we tried to add more weight to the bottom, so it wouldn't flip easily. The pipes are heavy and the board is quite light. If there were small children around, I would make the board wider, so the castors would be wider apart, or add even more weight to the bottom. Maybe a thicker and/or heavier board for example.
Bolt the flanges onto the board and secure with nuts on the other side.
Now you have a rack. You can leave it as it is, or paint it. We used a primer that suits both metal and wood. After priming, I painted two coats with window and door paint. It's still a bit transparent, but I like it that way.
Now it's time to get your fabric out. We were going to buy pink Keisarinna fabric by Marimekko, but realized we had an old curtain of Marimekko's green Ananas at the attic. It happened to be just the right size. When I get tired of Ananas, Keisarinna is next in line.
Iron your fabric and trim the sides if necessary. One option is is to sew buttons on the fabric, that way you can change it easily. However, I opted for hand-stitching. Because I might want to use mine as a curtain again, I didn't want button holes on it. (Bad mistake.)
Get desperate, because your hand-stitching looks worse than a first-grader's. Promise your spouse/boyfriend/girlfriend/family member you will peel potatoes if he/she will do the rest of the stiching. Hope that no one ever looks at your screen up close.
TA-DAH! And you are finished! Admire your work (from a distance). Make a mental note next time to use buttons.
If the fabric gets creased from sewing, spray water lightly on it. Wait til next morning until it has dried and straightened.
If you (no longer) need a screen you can easily turn it into a normal rack. I've always dreamt of one so this was the perfect excuse to build it.
In Finnish / Suomeksi
Meillä on nyt sermi! Kiitos kaikista mahtavista ideoista ja ehdotuksista, en olisi yksin keksinyt tätä! Päädyimme rakentamaan rekin itse Design*Spongen ohjeita mukaillen. Kankaaksi piti tulla pinkki Keisarinna, mutta toisin kävi. Nimittäin muistimme että vintillä on vanhat Marimekon Ananas-verhot ja ne sopivat juuri täydellisesti. Keisarinna on sitten seuraavaksi vuorossa.
Jos innostut rakentamaan oman rekki-sermisysteemin, tarvitset:
Metalliputkea, 3-4 pätkää. Oikeastaan rekkiin tarvii vain kolme palaa, mutta lisäsimme yhden pohjalle painoksi. Putkia saa kahta eri mallia, sinkittyä ja mustaa rautaa. Musta rauta on halvempaa, joten otimme sitä. Rautakaupoista putkea saa ostettua standardimitoissa (1 m, 1,5 m and 2 m). Meille nuo ei oikein sopineet, joten tilasimme lvi-liikkeestä oikean mittaiset, kaksi 145 cm pitkää ja yhden 130 cm pitkän. Kaikki olivat 3/4″ paksuja.
Liimapuulevyä. Ainakin Bauhausissa saa mittojen mukaan leikattua, jos ei kotona onnistu. Meidän levy on 150 cm pitkä, 30 cm leveä ja 3 cm paksu.
2 kulmapalaa putkien yhdistämiseen ja 2 tuollaista lituskaista joilla putket kiinnitetään levyyn.
4 pyörää
16 ruuvia ja prikkaa pyörien kiinnittämiseen
4 pulttia ja mutteria
Pohjamaalia ja maalia. Itse käytin Otex-tartuntapohjamaalia, koska se sopii sekä puulle että metallille ja päälle Maalarin valkolakkaa.
Pensseli
Kangasta
Neula ja lankaa (mahdollisesti myös ompelukone ja nappeja)
Näin sermi syntyy:
1. Kun saat tarvikkeet kasaan, innostu projektista niin että unohdat ajatella. Ruuvaa putket tiukasti kiinni toisiinsa kulmapaloilla niin, että ne muodostavat massiivisen U:n. Vasta sen jälkeen hoksaa, että mustat rautaputkesi ovat ruosteen peitossa ja vaativat hiomista. Koska rautapöly on mahdotonta siivota etkä saa putkia enää irti toisistaan, raahaa U:n muotoinen rakennelmasi ulos hiottavaksi (ellei sinulla ole tilaa jonka sotkeminen ei haittaa). Sinkittyä putkea ei tarvitse hioa. Raahaa putkimuodostelma takaisin sisälle pestäväksi jos ulkona on pakkasta. Pese maalarinpesulla tai vastaavalla.
2. Hio pahimmat tikut ja epätasaisuudet liimapuulevystä. Voit myös halutessasi pyöristää kulmia.
3. Ruuvaa lituskapalat putkien päihin ja mittaa, mihin kohti levyä haluat putkirakennelman. Merkkaa kohdat levyyn.
4. Käännä levy ja mittaa sopiva paikka rullille. Liian lähellä reunaa puu saattaa haljeta. Ruuvaa pyörät levyyn.
5. Metalliputket ovat painavia ja liimapuu kevyttä, joten tämän kokoisessa rekissä painopiste jää ylös. Rekistä tulee siis kiikkerä. Panun patenttiratkaisu oli lisätä painoa pohjaan kiinnittämällä yksi lisäputki levyn alapuolelle. Rekistä ei silti tullut kovin lapsiturvallinen, mutta meille se välttää. Jos haluat vakauttaa rekkiä lisää, kannattaa valita leveämpi ja /tai painavampi levy. Jos pyörät saa kauemmas toisistaan, rekki ei kaadu yhtä helposti.
6. Pulttaa putket kiinni levyyn.
7. Nyt sinulla on rekki. Voit jättää sen sellaisekseen tai maalata sen. Itse maalasin kerroksen Otex-tartuntapohjamaalilla ja kaksi Maalarin valkolakalla.
8. Silitä kankaasi ja tarvittaessa ompele reunat siisteiksi. Kankaan voi ripustaa esimerkiksi ompelemalla siihen napit. Silloin kangas on myös helppo vaihtaa tarpeen tullen. Tai jos et syystä tai toisesta halua kankaaseen napin läpiä, harsi se käsin paikoilleen. Menetä hermosi, koska ompelujälkesi on surkeampaa kuin ekaluokkalaisella. Lahjo puoliso/poikaystävä/tyttöystävä/perheenjäsen suorittamaan harsiminen loppuun tarjoutumalla kuorimaan perunat. Toivo että kukaan ei koskaan katsele sermiä läheltä.
9. TA-DAA! Sermi on valmis. Ihastele luomustasi turvallisen välimatkan päästä. Päätä ensi kerralla ommella napit. Jos kangas on rypistynyt ommellessa, suihki siihen kevyesti vettä. Odota seuraavaan aamun, kunnes kangas on kuivunut ja suoristunut itsekseen.
10. Jos kyllästyt sermiin, poista kangas ja sinulla on rekki.