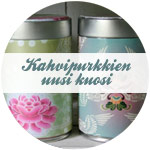 Kahvipurkkien uusi kuosi
---
Meillä on iso kasa metallisia illy-kahvipurkkeja lojumassa nurkissa. Olen jo pitkään miettinyt, mitä niille keksisi, jotta ne saisivat jatkaa elämäänsä. Tämän keskustelun ja löytämieni Papayan papereiden inspiroimana päätin päällystää ne paperilla ja decoupage-lakalla. Kuulemma myös tavallinen sisälakka käy, mutta meillä ei ollut sitä ja decoupage-lakan löysin helposti askartelukaupasta.
Ohjeet poimin Kesä T.i.l.a.sta, mutta jos joku ei sattunut sitä näkemään, kertaan ne vielä täällä.
Ja mitä sitten tarvitaan?
1. Paperia tai kangasta
2. illy-kahvipurkki tai vastaava
3. decoupage-lakkaa, minä käytin kiiltävää
4. sakset
5. vesivärisivellin
6. askarteluveitsi (ei pakollinen)
7. viivotin
Mittaa ensin paperista sopivan kokoinen kappale purkin leveimmän kohdan ympärille.Illyn mitat ovat 11,4 x 29 cm. Piirrä kantta mallina käyttäen pyöreä pala kannen päällystämiseksi.
Levitä lakkaa ohut kerros muutaman sentin matkalta purkin kylkeen. Se on aluksi valkoista mutta kuivuessaan muuttuu kirkkaaksi. Minä laitoin aluksi liian paksusti ja paperi venyi ja kupruili. Jotkut kuprut oikaistuivat lakan kuivuttua, mutta ensimmäiseen versioon jäi niitä silti aika paljon.
Aseta paperi paikoilleen ja silitä tasaiseksi. Jatka aina muutaman sentin pätkä kerrallaan.
Kannen voi tehdä kerrallaan.
Ylimenevät paperit voi leikata pois askarteluveitsellä. Niitä voi myös taitella reunojen yli ja kiinnittää lakalla.
Kun lakka on kuivunut, lisää päälle vielä useampi kerros. Näin purkki kestää kevyttä kostealla pyyhkimistä. Täysin vedenkestävä siitä ei näillä keinoin tule.
Sitten purkit voi mallailla miehen korjaamaan komuutin yläosaan :)
Komuuti vaatii vielä kevyttä nikkarointia, mutta en voinut vastustaa pientä testailua. Lasit pitää laittaa ja rapsutella valkoisia lateksimaaleja pois. Kellarissa odottelee jo purkki valkoista pellavaöljymaalia yläosan sisuksiin.
Olipas muuten melkoinen tuuri. Komuutin etuosasta puuttui rima ja takaa yksi lauta. Harmittelin, että siihen pitää laittaa uutta puuta ja maalata koko komeuden päälle. Mutta Panu löysi pihalta kompostin takaa puulevyn, joka oli maalattu juuri samalla turkoosilla ja sitten päälle valkoisella lateksilla. Kyllä tuon paikatun kohdan erottaa jos katsoo tarkkaan, mutta taidan silti tykätä komuutista tuolla lailla. Ei tarvi maalata ulkopuolta uusiksi, ainakaan vielä.
In English
We have a lot of metallic illy coffee jars laying around and I've been trying to come up with something to make them more displayable. I like to store things in cans and jars, but I want them to look nice so they can be on open shelves. Inspired by the beautiful jars in the Spanish tv show Cuéntame and some great ideas from my blog readers I decided to decoupage them. I used beautiful papers from PaPaYa! I found at a shop nearby but you can also use fabric or even wallpaper.
Here's what you need:
1. Paper or fabric
2. A coffee jar
3. Decoupage glue, such as mod podge. You can also use white school glue diluted with water.
4. Scissors
5. Watercolor brush
6. X-acto knife (optional)
7. Ruler or cloth tape measure
Measure a rectangular piece of the paper to cover the widest part of the jar. For illy jar the measures are 11,4 x 29 cm (4,5 x 11,4 inches). Using the lid as a model, draw the outlines for the cover of the lid.
Apply a thin layer of decoupage glue on the side of the jar and place the paper. Apply only a couple of inches at one time evening out the paper as you go.
You can do the lid all at once.
Cut all excess paper with an x-acto knife. You can also bend it over the edge and attach with glue.
When the glue is dry, apply several layers on top to make it more durable. Decoupage glue is water-soluble so it wont be completely water resistant this way, but can be wiped lightly.