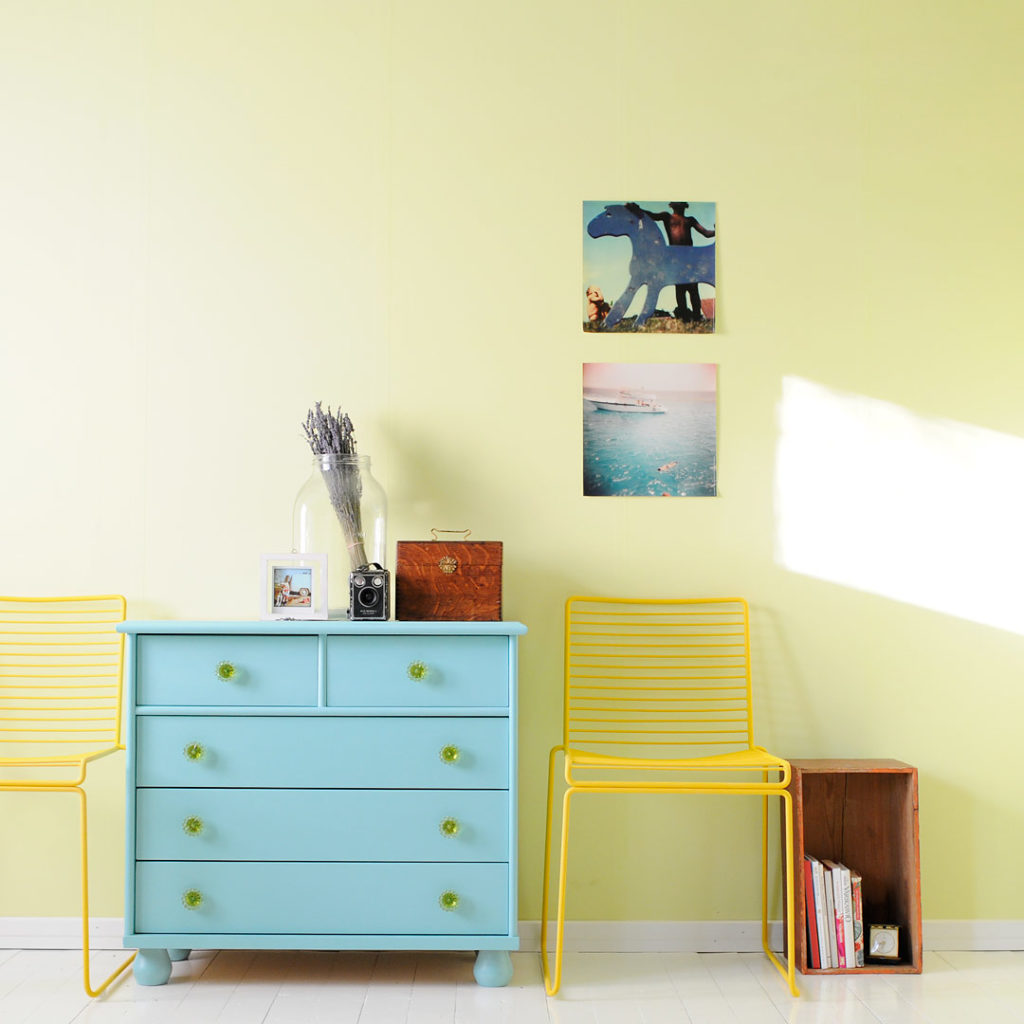 How to repair furniture chewed by your Puppy
---
I am a person who hates to throw away anything. Especially anything with memories. So I've had this chest of drawers with me for years. 20 years to be more exact. It's the very first piece of furniture I chose by myself. I remember how exciting it was, me and my Mom going around all the furniture stores (at the time there weren't that many!), me looking carefully at all the possible candidates.
Now as you can see, it didn't really fit my style anymore. And furthermore, one certain Puppy – I'm not pointing fingers here – ate some pretty important parts of it. For one brief second I thought of tossing it. But how could I? After years of moving from one flat to another and now renovating our house, things keep changing place constantly. These drawers have been the only place where I know exactly where my stuff is.
So I had to think of something else.
I'm going to be perfectly honest here. I was the one who decided we need to fix the chest of drawers, paint it turquoise and change the knobs. But Panu, my husband and engineering mastermind, did all the planning. He chose the right tools and plotted all the necessary steps, I just executed them with his instructions.
I feel quite pround of myself, because the last time I even touched a saw was on 3rd grade when we had shop, and I hated every minute of it. But this time it was a lot of fun. That's why I wanted to share the process with you as well. You don't have to be a carpenter to do this stuff. Not even a man (hehe).
The plan was to trim the lower part that Mansikki puppy had chewed big chunks of. For that I used some of Panu's flea-market-find planes. The planes worked nice for cutting with the grain. The sides had to be cut against the grain, so I used a jig saw.
There was still some holes left after the planing, so we filled them with wood putty.
Also the tooth marks on the upper parts got filled with putty. Then I sanded the whole thing. The sawed surfaces were quite rough so they had to be smoothed. The rest was covered with varnish that had to be sanded before painting.
I painted first with Uula primer and then with Uula Into, although it's not a furniture paint. They even tell on their site that it's not recommended for furniture. But we had it left from painting the office, so that's what I used.
One of the most difficult and time-consuming steps was to choose new knobs from Anthropologie. They have sooo many amazingly beautiful options. I ended up with green glass knobs.
And voilà! You can hardly see any dents anymore. This is something I could definitely do again, it was so much fun. (Although I hope Panu doesn't expect me to do all the fixing from now on.)