Electricity and Thinglink
---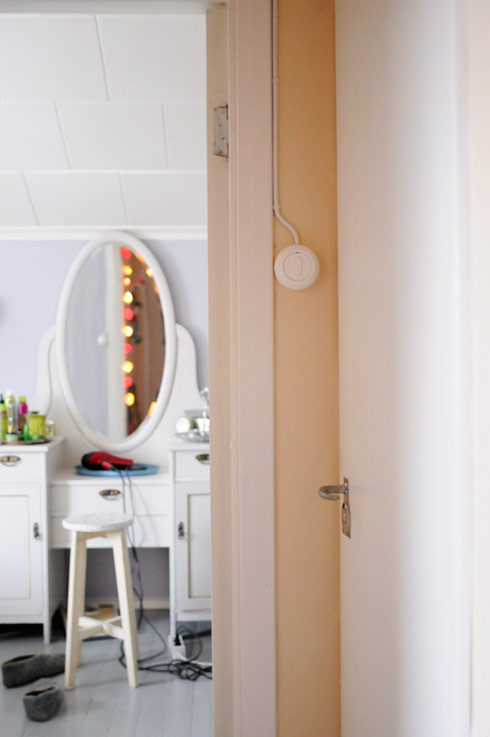 Maybe you have already noticed strange black dots appearing and disappearing on some of the pictures. They are tags by a tool called Thinglink. I got a tip from a reader (thank you Ari!) and immediately thought I should give it a try. Thinglink lets you tag images with links. Now I can tag for example products in a photo, so it's easier for you (my readers!) to find out about resources. In this post I have tagged all the resources for the electrical accessories, so you can just click the black dot and it takes you to the things!
From the black dots on the upper left side of the picture you know that there's a Thinglink tag on the image. On this post I'm afraid most of the links lead to Finnish pages, so they might not be as interesting for the rest of you. But if there is an English site or version, I will link to it. After all, I write the blog in English.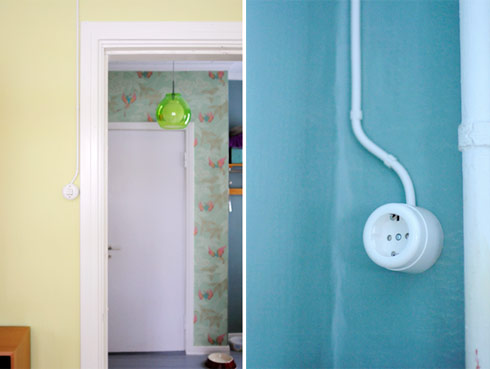 So… to electricity. The hardest part of redoing the electricity was hunting down the right kind of light switches, outlets and connection boxes. We wanted to use as much vintage parts as we could. And we hired a professional electrician to do the wiring. No matter how DIY you are, some things are best left to a professional.
In new houses electric wires go inside the walls in big plastic pipes (oh, the things you learn when renovating) but in old houses they go on the surface of the wall. We wanted to keep it like that, but it brought more challenges. The electrician said he hadn't done wiring like that in this millenium. Younger electricians have never even learnt it! We had to purchase the wires because we wouldn't accept the plastic covered ones they normally use when the wires are hidden inside the wall. Ours have both plastic and metal so they bend beautifully and stay in position – no floppy wires here!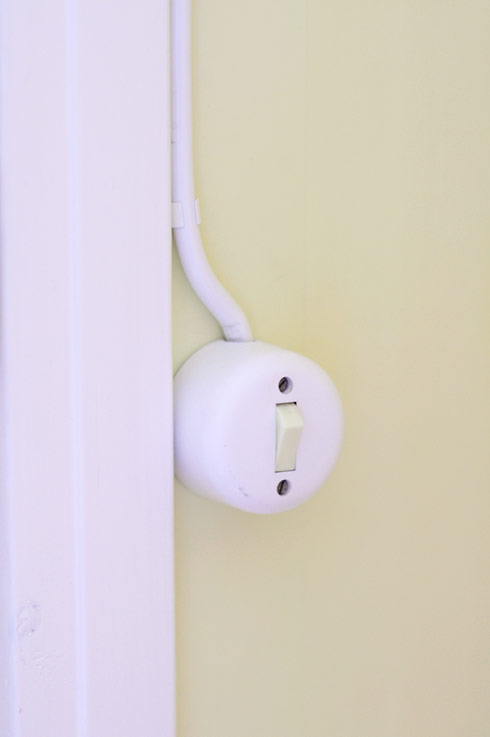 It was quite difficult finding the exact kind of light switches that we have downstairs. Luckily we got some from friends, neighbors and anno.fi. The Ifö-Electric porcelain connection boxes are based on old designs. They are much smaller than modern ones. According to the electrician they are tiny. Actually he might have used some other words, but I will not publish them. Let's just say he wasn't initially excited to work with the small-ish boxes. But he managed to get them assembled anyway and I think they are beautiful. BTW, we still have some extra ones left, if anyone is interested in buying them.
For the parts that we couldn't find vintage replacement, we got outlets and light switches that were designed in a similar style. Like Renova. In Finland you can basically find them in a regular hardware store, but we had trouble getting the right kind of order. In fact, we ended up getting the outlets for free because they kept messing our order so many times. The electrician told us afterwards that he could have ordered them for us and saved us a lot of time.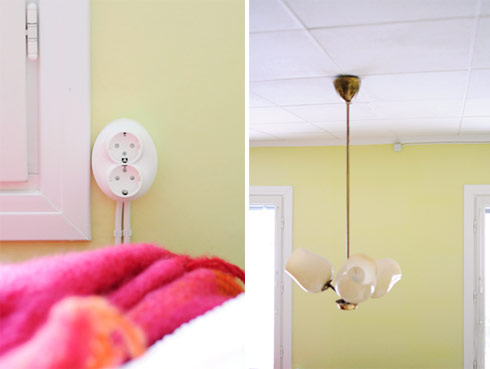 Back to Thinglink. Let me know what you think about it! I think it's brilliant and really helpful in sharing information. I believe it's something that can really benefit you. But I'd also like to hear your opinion. I was thinking about tagging products that you can find online (vs. local shops or flea markets) but also stuff like paint colors and wallpapers. I can't count how many times I've been asked what is that wallpaper (also in the second photo). So maybe from now on I'll just tag every photo where it shows. Hehe. Ok, maybe that's a bit of an overkill. (For your information, it's Grove Garden by Osborne & Little.)
But if you do have any wishes, what kind of things you would like to see tagged, I'd be more than happy to hear them!