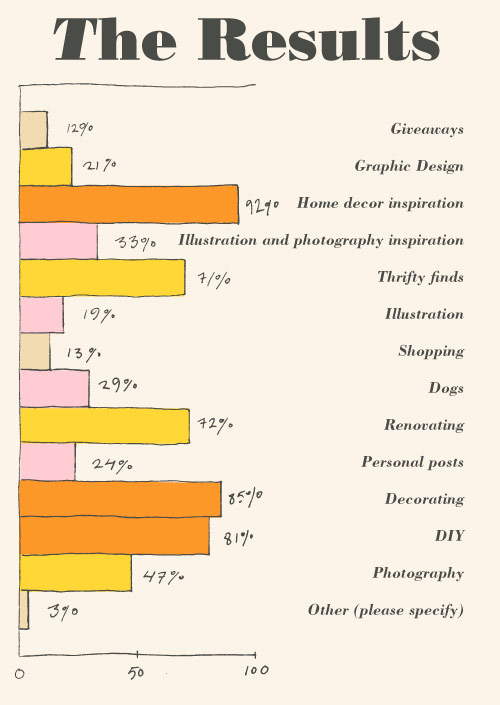 Like some of you asked, here is a briefish (ok, not brief, this turned out possibly the longest post ever) summary of the survey results. First though I want to thank you all for participating! It was so great reading your thoughts. Some of them I could guess, but there was also surprises. I guess I was feeling a little bit lost with my blog. With millions of blogs in the world, I wasn't sure anymore why anyone would want to read mine. But your answers – and the fact that so many of you took the time to answer – shoved me back to track. You have also given me tons of new post ideas! I will answer some of your questions here, and some in later posts.
It isn't really a surprise that so many of you find decorating and renovating features most interesting. After all, they have always been my main subjects. I haven't posted that many inspiration pics, because I've been worried you might find them boring (not being original content and all) but I can see I was wrong.
Many of you were also asking more renovation, and more pictures and history of our house. You were also hoping for dream-goals and in-progress shots for our renovation. We haven't been renovating for the last two months, so it's been quiet on that front. We plan, however, to remodel the kitchen next summer. So prepare for lots of kitchen stuff. I forgot the gardening section from the survey, but there will be also some work in the garden (probably not much) come spring and summer.
You were also interested in my work. Many were asking more tutorials like the halftone poster and thought process behind my work. I'm glad, because that takes up a big part of my day and I'm happy to share it with you guys.
The biggest divider was the subject of dogs! Some of you said they are the least interesting part of Kootut murut, some were demanding more. I guess I will try to maintain a balance. They are an important part of my life so they will make appearances in the future too. But I will try to limit dog related posts to a reasonable amount. (…Whatever that is, hehe.)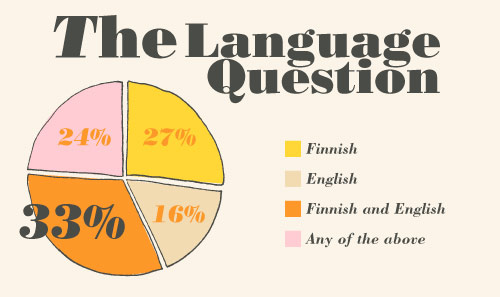 And then to the language question. The answers were divided pretty even. One third prefers both English and Finnish. 27% of you would rather read Finnish only and almost equal amount doesn't mind whichever the language. I have been boggled about the language issue for months. I am the slowest writer in the world, and writing in two languages takes twice the time. You can't just translate the text, you have to rethink it in the other language. In my mind I figured it's better to have more posts in one language than fewer in two. Also, when I was was writing in both Finnish and English, I got feedback that it's confusing.
At the moment I'm a bit unsure what to do. I want to take your hopes into consideration, so I'm thinking re-introducing Finnish into Kootut murut again. At least for a while, to see how it goes. But is it confusing if I don't always have time to update in both languages? What do you think?
And finally, some questions and answers…
How has writing in English affected your readership? At least I check up on your blog less often now that it's in English only.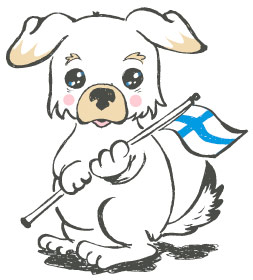 The readership has kept growing since the change. I guess if some Finnish readers have quit reading the blog, there has been new (Finnish and) international readers. At least the proportion of international readers has grown.
The new site downloads quite slowly.
I will see what I can do about that!
I would like to see more products in your shop. Would it be possible for you to make for example T-shirts or bags?
I'm working on new products as we speak. Thank you for the great idea, I will check on them!
If you have any additional questions or something else you'd like to say, please do so in the comments or by email!
PS. What do you think of the color palette for the graphics? I got it from Color Collective. They got the most beautiful color schemes (and inspiration pics too).