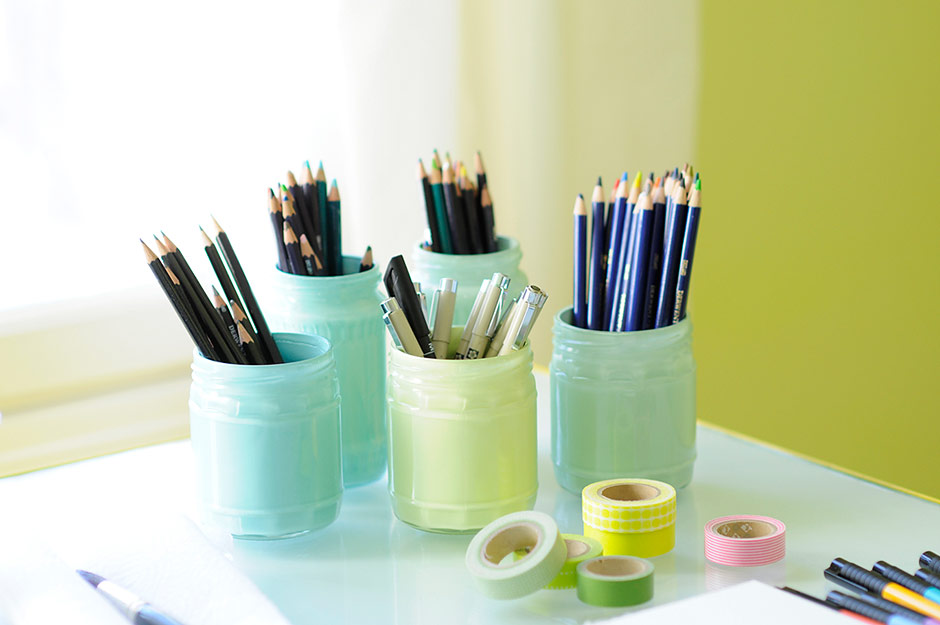 Painting pastel glass jars
---
This week has been a whirlwind with so many things happening I haven't had time to blog. Very exciting but also busy. However, here is the DIY project I promised you. Since I got a new working space I've been trying to organize it the best I can. I bookmarked these instructions ages ago and now found use for them. I also found use for our leftover paints and glass jars that tend to pile up in cupboards.
The project was pretty straight-forward and simple, it took mostly patience. What you need is:
paint
glass jars
lids
old newspapers (to cover the working surface)
spray paint (optional)
We have a large(ish) collection of jam and jalopeno jars from which it was easy to choose matching jars. The paint should be thick enough so it'll stick to glass, but not too thick. I used Uula Into in different colors. The yellow Into was too thick, I should have diluted it with water (Uula Into is water-thinnable). The others were fine.
And this is what you do. Clean and dry the jar thoroughly. Pour in some paint.
Swirl and shake. Twist and turn. It helps if you close the lid, that way you don't get paint all over.
Pour the most excess paint back in the paint can.
Leave the jar upside down to drip (lid on!) I left mine overnight.
Pour out the remaining excess paint.
This is what happens when your paint is too thick. It stays like that. You can try to wipe it, but be careful not to remove too much. You don't want clear glass to show.
Wipe the rim clean before the paint dries. If the paint does dry, you may need to scratch it with your finger nails. Leave the jar to dry. This will take quite long. Normally Uula Into dries in 2 hours, but now it took 2-3 days.
Now you have a pretty place to stuff your pens and pencils (for example). I'm happy because the jars have freed up more space on my drawing table AND they look nice.
You can also spray paint the lid and use the jar to store little trinkets. I labeled mine with old school Dymo. At least here you can get them from Clas Ohlson. If your paint is not water-soluble (like mine was) you could use the jars also as flower vases.