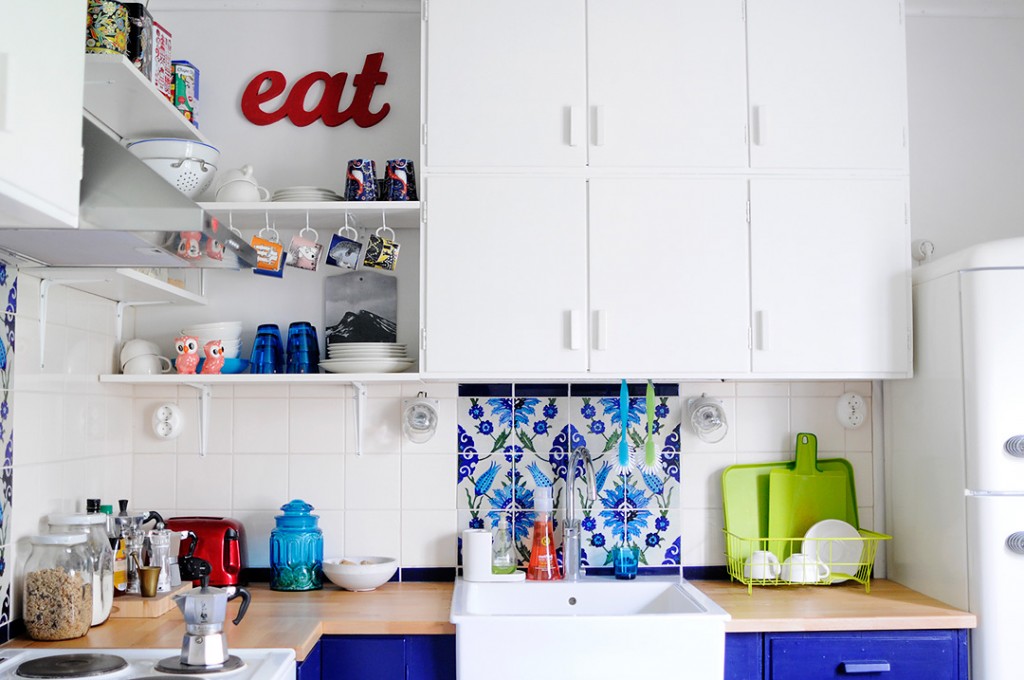 Kitchen Remodel part II
---
The biggest thing last year – apart from pregnancy – was the kitchen remodel. We were working against a tight deadline, my baby's due date, and I can honestly say it was the most stressful renovation ever. You can't believe how many times I swore no more renovating while pregnant! Well, I also swore I would never renovate again. Period. But I think you know what happened to that promise…
Now that the kitchen is (pretty much) finished, I feel so happy with the result. Looking at these before & after shots I must say I'm even proud of us for making it happen. Especially Panu because he did most of the hard work. I did the design bit.
Probably 90% of the kitchen cabinetry was recycled. If you missed it, you can see the recycled cabinets before restoring here and my kitchen plans with resources here.
Now to the before & afters. This is how the kitchen looked like in 2008 before we moved in…
The same corner now.
The fridge and dishwasher in 2008 vs. today. There is still a dishwasher next to the fridge. It's just integrated and hidden behind the door that Panu made from recycled materials.
Entryway to the kitchen, 2008 and now. I had already forgot about that vinyl flooring.
Along the years we have found a great renovation team, electrician, plumber and tile guy, who we trust and will be working with at future renovations too. Especially the plumber, he's a gem that i can warmly recommend to anyone in the area.
The handmade tiles by Emery & Cie are "the" thing of the kitchen, I love them. However I did not love ordering them. They don't have a retailer in Finland and ordering by email was nerve-wreckingly slow, as it would take them days to reply. For example, I got the delivery confirmation with a tracking number after I had already received the actual tiles.
Another thing I wasn't happy about was Uula Into Furniture paint. I feel I must mention this, because I have raved so much about the Uula Into Interior paint and recommended it to everybody. Into Furniture paint unfortunately I can't recommend to anyone. Also their customer service was disappointing.
Instead of the 2-3 coats mentioned in the paint can, it needed 5-6 coats (and still you could see lighter and darker patches). On the smooth surfaces of the 50's cabinets, we coudn't get rid of brush strokes. We ended up painting and sanding them a zillion times. So stressful and you can imagine timetables didn't keep. Eventually we removed the Uula Into paint altogether from the 50's cabinets (well, as much as we could) and painted them over with Tikkurila Empire.
We only left Into Furniture paint on the older lower cabinet, as it had no previous coats and we wanted a plastic-free paint. In the future I'm planning to paint it over too, because it gets stained super fast. The other cabinets with same color but different paint don't do that.
The walls are painted with Uula Into Interior paint and we are happy with them.
All in all I'm happy with how the kitchen turned out. All the struggles were worth it. But if I learned something from this and want to share with others, it's that you should never start a renovation while pregnant. The bigger the project, the more likely it is your schedules won't keep. But the baby's due date is pretty much the same.