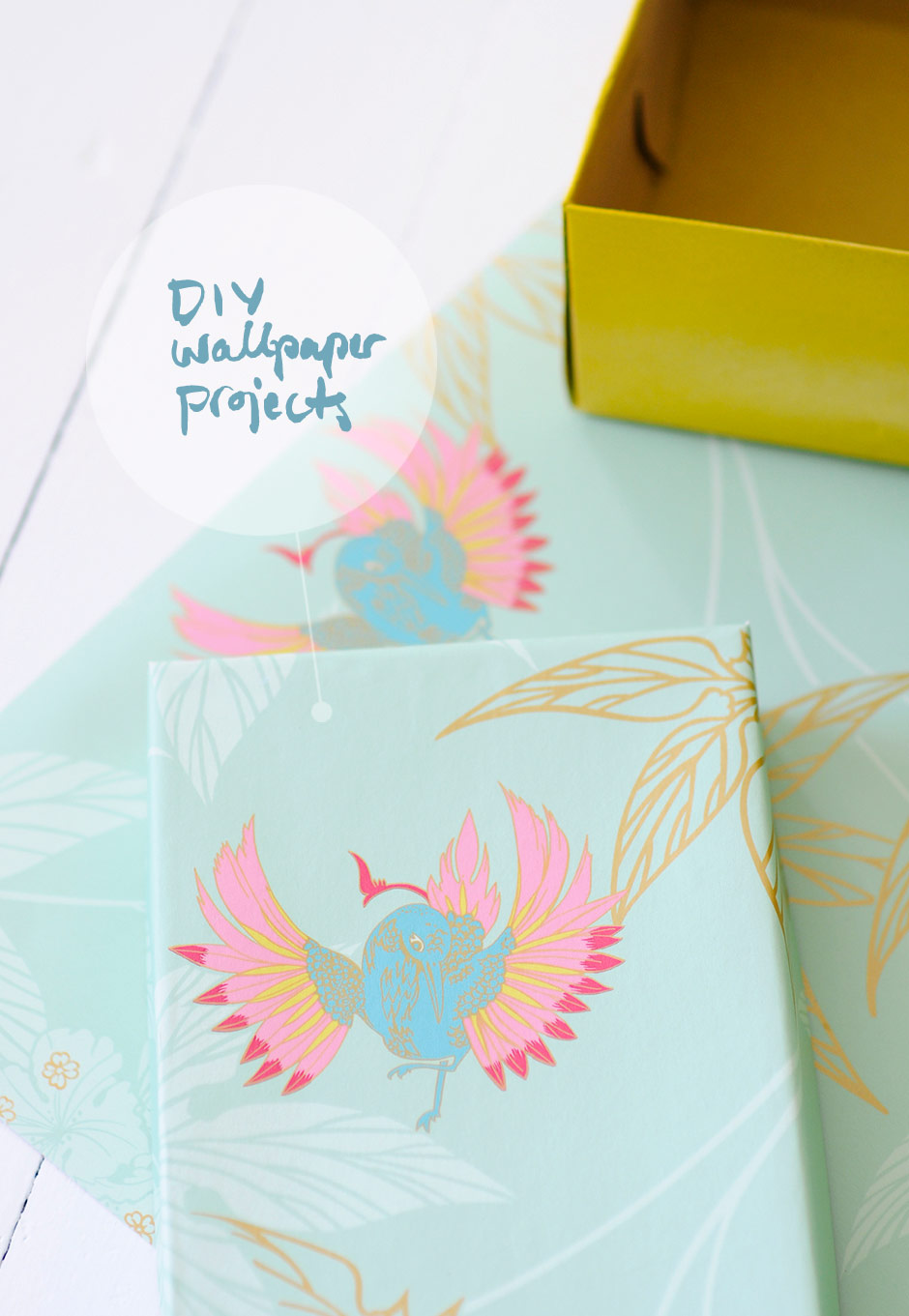 DIY Wallpaper Projects
---
Lately I've been making loads with wallpaper. So I thought I'd share my projects with you, too. I got heaps of shoeboxes and they ain't pretty. But with wallpaper, glue, water and a paint brush that can change. You can turn them into beautiful storage boxes. And one can never have too much storage, right? I found these great instructions from Finnish Ihana magazine via Ennenvanha.
What you need
Wallpaper
Shoeboxes
Glue (normal white glue works)
(Wallpaper glue or paste – optional)
Paint brush
Mix water and glue into a fluid liquid. You can also use wallpaper glue or paste if you have leftovers from renovating, but add about 1/3 of glue. It helps wallpapering as the glue attaches to cardboard quickly. If you get glue stains on the paper, wipe them as soon as possible with a damp cloth. If the wallpaper is bumpy, don't panic. When the glue dries, most bumps disappear.
The amount of wallpaper depends on the size of shoeboxes you have. Basically you need 2 x the length of the box + enough to cover the sides.
If you are a renovating maniac like me and have scraps of wallpaper lying about, great. But if not, there are shops selling it by the meter. For example Colore online store sells the pretty-pretty PiP Studio wallpapers and you don't have to buy the whole roll.
Draw the outlines of the box on the backside of the wallpaper. Spread glue all over the the bottom of the box. Don't leave any parts glueless, otherwise you'll get airholes.
Press the box on the wallpaper and turn it around. Press the wallpaper carefully to smooth out any bumps.
Cut the sides of the wallpaper.
Next glue the long sides.
Cut the sides of the short ends straight and glue them. Fold the edges inside of the box.
Cover the top accordingly.
You now have a box to store whatever you want!
So what next? You still have more scraps to use.
You can make art by framing it.
Or cover coffee tins to store little trinkets, pens, paint brushes etc. I made a storage system for my markers by covering a bunch of coffee tins and securing them with a belt.
I wrote instructions for decoupaged coffee tins years ago, you can find them here (scroll down to the end for English instructions).
The holiday season is coming (oh yes it is, and I have a feeling I'm going to go Christmas-crazy this year). You can use wallpaper for adorning gift tags or even fold origami boxes for your presents. This will work better for the paper-kind wallpaper. Thicker vinyl wallpapers might not fold well. Easy-to-follow video instructions for origami boxes here.