The downstairs bedroom that now works as a storage (aka. horrific chaos) was supposed to become Panu's music room. It was designed to become a dungeon of darkness where he could listen to black metal, play drums and guitar. But now with the baby it will become my home office, when we get to that point. We had chosen a dark wallpaper for the music room, but I like it so much we'll keep it anyway. Instead of his dungeon of darkness the room will become her dungeon of… Kitsch? Yes!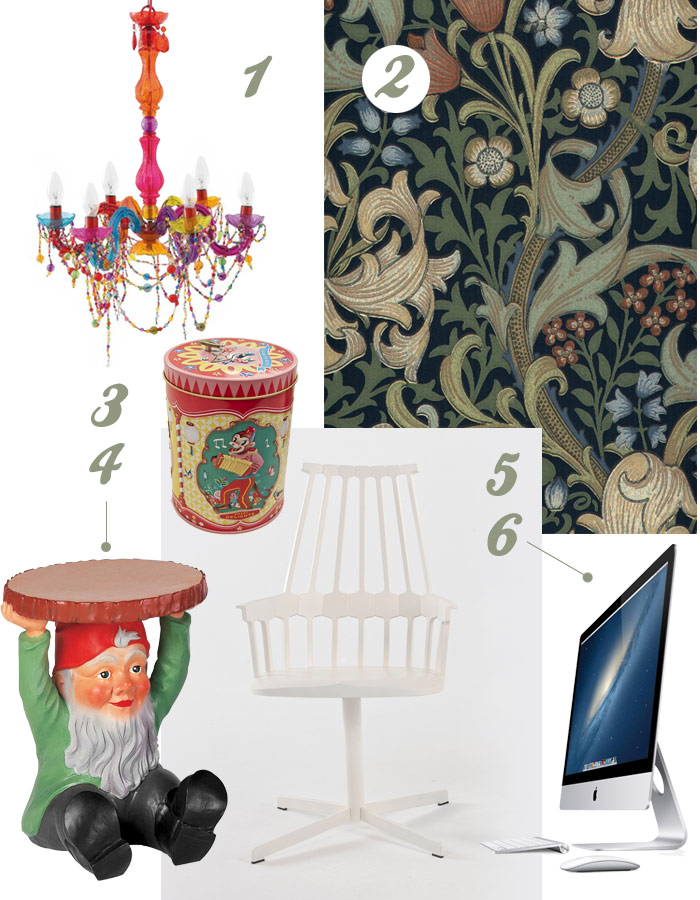 Here's what I had in mind:
In Finnish / Suomeksi
Remontin ajankohdasta ei taas ole tietoakaan, mutta se ei estä haaveilemasta. Alakerran makkarista, joka tällä hetkellä on varasto (eli järkky kaaos), piti tulla Panun musahuone. Suunnitelma oli että siitä tulisi pimeyden valtakunta, jossa hän saa soittaa synkeää musaansa, kitaraa ja rumpuja. Noh, pikkumies tuli ja muutti suunnitelmat. Huoneesta tuleekin minun työhuoneeni.
Olen kuitenkin niin tykästynyt valitsemaamme tapettiin, että se saa jäädä. Suunnitelmiin siis, mitäänhän ei vielä ole tehty. Pimeyden valtakunnan sijaan huoneesta tulee… Kitschin valtakunta! Olisipa äkkiä aikaa ja rahaa!