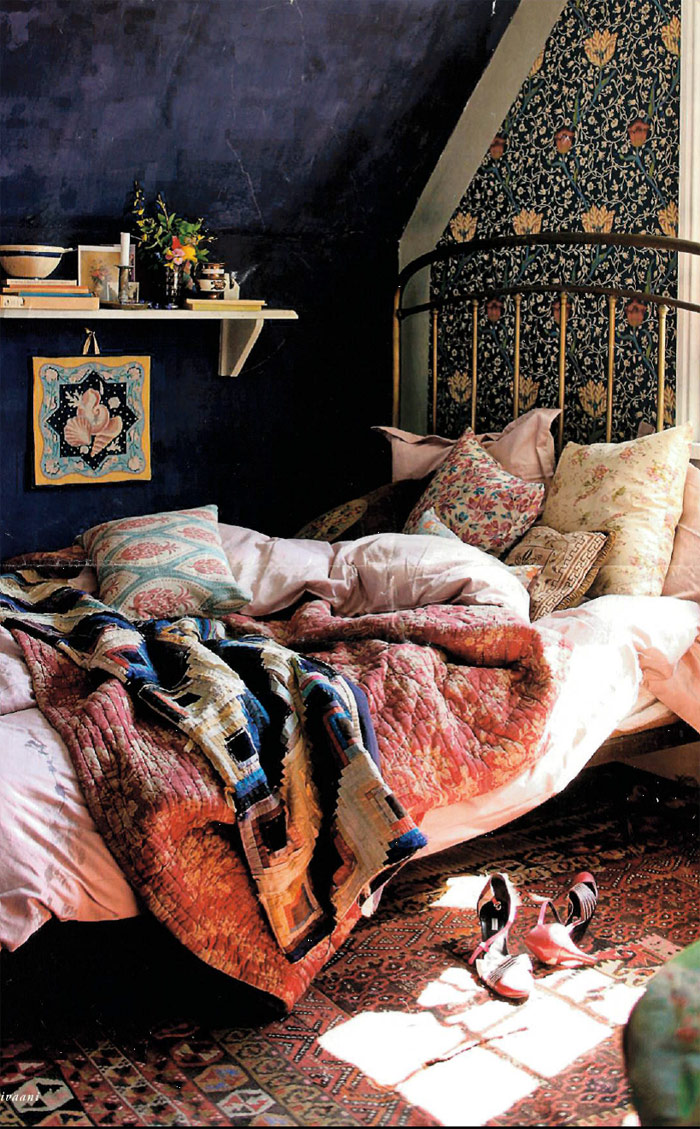 I remember sitting at the hairdresser reading Divaani magazine years ago when I saw this photo. I totally fell in love. It was my first introduction to William Morris and his stunning world of wallpapers. When I got home I googled him and chose his wallpapers for the upcoming music room.
This summer I bumped into the photo again at Niinan unelmia. I've been unhappy with our bedroom since the beginning, not knowing what to do with it. When I saw the photo, I realized this is exactly what we must do! William Morris' Garden Tulip on to the window wall, dark blue paint everywhere else. And you know what. Even my lately-so-renovation-reluctant husband got excited. So this is what we'll be doing next.
Don't you just love when things comes together like that?
In Finnish / Suomeksi
Vuosia sitten istuskelin kampaajalla ja luin Divaania. Näin tämän kuvan ja rakastuin. Se oli ensimmäinen kerta kun kohtasin William Morrisin. Tankkasin nimen muistiin, kotona googletin hänet ja valitsin tapetit tulevaan musahuoneeseen.
Tänä kesänä törmäsin kuvaan uudestaan Niinan unelmissa. Olen ollut alusta saakka tyytymätön meidän makuuhuoneeseemme. Joku siinä on aina ollut vialla, enkä ole osannut korjata sitä. Kun näin kuvan, tajusin mitä on tehtävä. William Morrisin Garden Tulip ikkunaseinälle ja loput tummansiniseksi. Ja arvatkaapa mitä. Jopa viimeaikoina niin remonttihaluton mieskin innostui! Eikö ole mahtavaa, kun palaset välillä loksahtaa kohdilleen?
PS. I'm sorry I don't know who to credit for the original photo. If you do, please let me know in the comments.