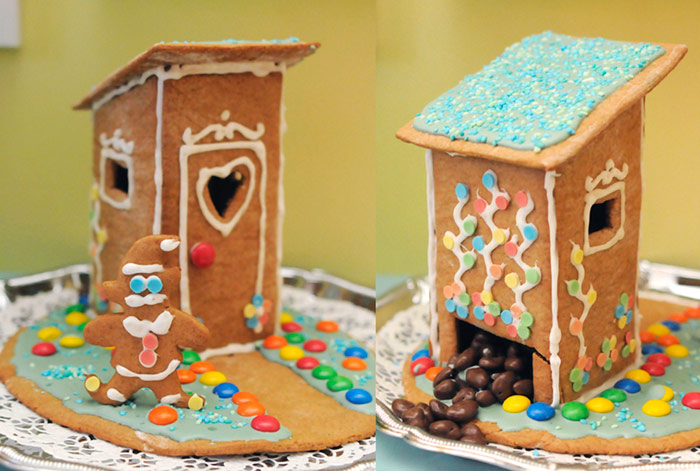 Gingerbread Outhouse
---
This is our gingerbread house from last Christmas. Yes, it is an outhouse. An anatomically correct outhouse. But you see, it's not my fault. I wanted to make a gingerbread house and asked my husband to be the architecht. After all, he is an engineer. I wanted to concentrate on decorating. My husband chose to make an outhouse and who am I to restrict one's artistic vision? So that's what we did.
This year he'd like to make a lean-to. Yup.
PS. I blatantly copied the flower decorations from Susanna (except hers are much, much more skilled.)
In Finnish / Suomeksi
Tässä on meidän piparkakkutalo viime joululta. Kyllä, se on huussi. Anatomisesti korrekti huussi. Mutta se ei ole minun syytäni. Nähkääs kun pyysin miestä olemaan arkkitehti, itse halusin keskittyä koristeluun. Mies on sentään insinööri. No, mies halusi tehdä huussin ja mikäs minä olen rajoittamaan toisen taiteellisia visioita? Sellainen siis tehtiin.
Tänä vuonna mies haluaa tehdä laavun. Jep, jep.
PS. Kukkakoristeet matkin törkeästi Susannalta, tosin hänellä on paljon, paljon taidokkaammat.