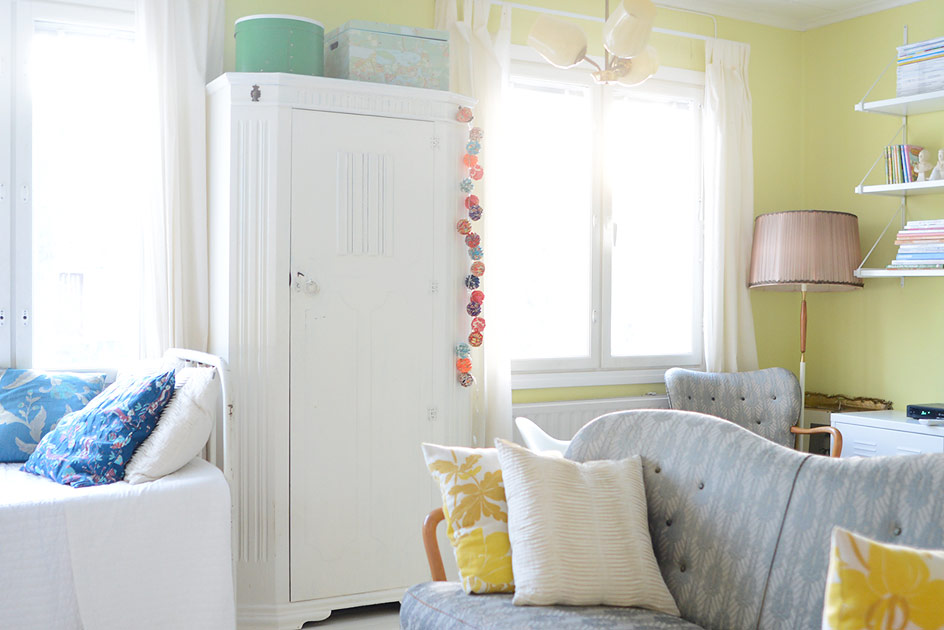 DIY Origami Mini Paper Lanterns
---
For the holiday season I thought of making mini origami paper lanterns for fairy lights. The good thing about using origami paper is that it doesn't scream Christmas so you can have the lights up long after. The technique is basically the same as in the origami lamp shade in our foyer, but in much smaller scale. Because the small size needs different tricks, I followed instructions from Minieco. But since I used origami paper I did some bits differently. Here I have written and photographed them, so you can try it too.
I recommend first you print the folding model B on the Minieco tutorial to practice until you get a hold of it, that way you won't waste precious origami paper.
I used 15×15 cm (approx. 6×6 inches) origami paper cut in half. For one paper you get one ball. So here's what you do.
Cut the paper in half. Fold the strip in half and then fold each half in half. Make valley folds and make them crisp. Continue folding each section in half until you have 16 sections.
Make the diagonal mountain folds according to the Minieco tutorial. Cut out the last section. Continue with the Minieco tutorial for both papers until you can fold them like an accordion.
Flatten the ends of the strips of paper and glue them together so that you have one section of each overlapping. Continue sewing following the Minieco tutorial. BTW the instruction tells you to punch needle holes beforehand but it's not necessary.
Attach small cable ties to the lights to keep the balls secure. You can also use them without fairy lights, as Christmas tree decorations. Or just hang them individually wherever you like.