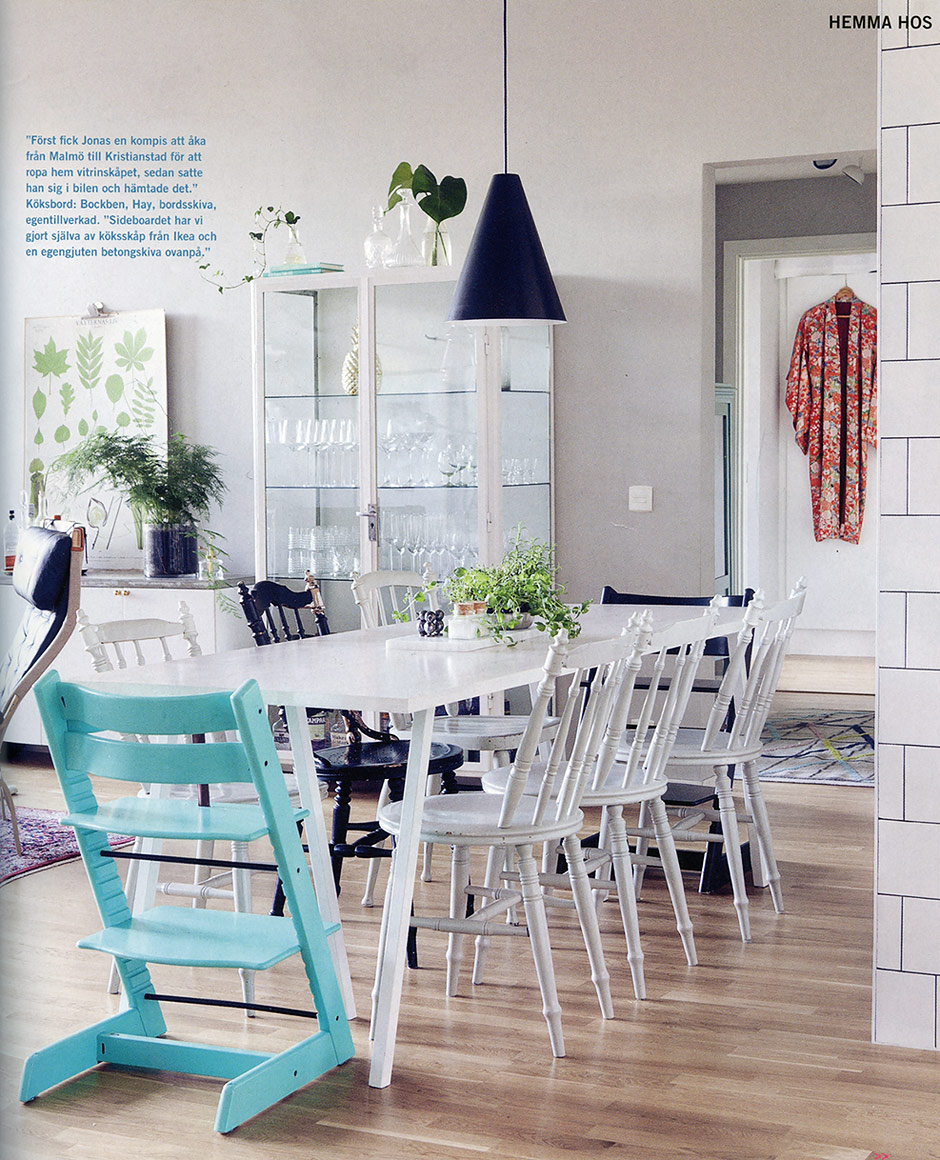 One of Those Moments
---
Do you ever have those moments where you go "Why didn't I think of that?!" Well I had one reading Family Living, an excellent Swedish magazine, one of my faves. Already when our baby was newborn I was considering getting a Stokke Tripp Trapp highchair with newborn seat so he could sit at the table with us, but I didn't like the colors. Now our baby is already six months(!) and is using the vintage highchair that our 3-year old has outgrown. So we needed a junior chair. Again, Tripp Trapps are great but the colors, not so much. So I didn't know what to do until…
I saw this photo. I was like duh!! Of course! Paint it. My sister happened to have a used Tripp Trapp they no longer need so we got it and now I'm trying to decide on the color (not the easiest thing). I'll give you an update when it's done. Isn't it great when things come together like that?
In Finnish / Suomeksi
Tuleeko teille ikinä sellaisia hetkiä, että miksi minä en tajunnut sitä? Minulla oli tässä päivänä eräänä kun lueskelin Family Livingiä. Jo vauvan syntyessä harkitsin Stokken Tripp Trappin hankkimista vauvakaukalolla, mutta en tykännyt väreistä. Vauva sitten istuskeli sitterissä eikä pöydän ääressä meidän muitten kanssa. No nyt, puoli vuotta myöhemmin, vaavi on siirtynyt meidän vanhaan syöttötuoliin, joka onkin jo turhan pieni kolmevuotiaalle pikkujätkälle. Nyt taas kolmevuotias tarvitsee juniorituolin. Tripp Trapit on hyviä siihenkin, mutta edelleen, ne värit. En tiennyt mitä tehdä, kunnes…
Näin tämän kuva. Olin aivan että daa! Tietenkin. Tuntui aivan typerältä että en itse tajunnut, että tottakai se pitää maalata. Siskolla sattui vielä olemaan tarpeettomaksi käynyt Tripp Trapp, jonka kävimme hakemassa. Nyt täytyy vielä keksiä joku hauska väri sille. Raportoin lisää kun se on maalattu.
Photo: Karl Nordlund for Family Living