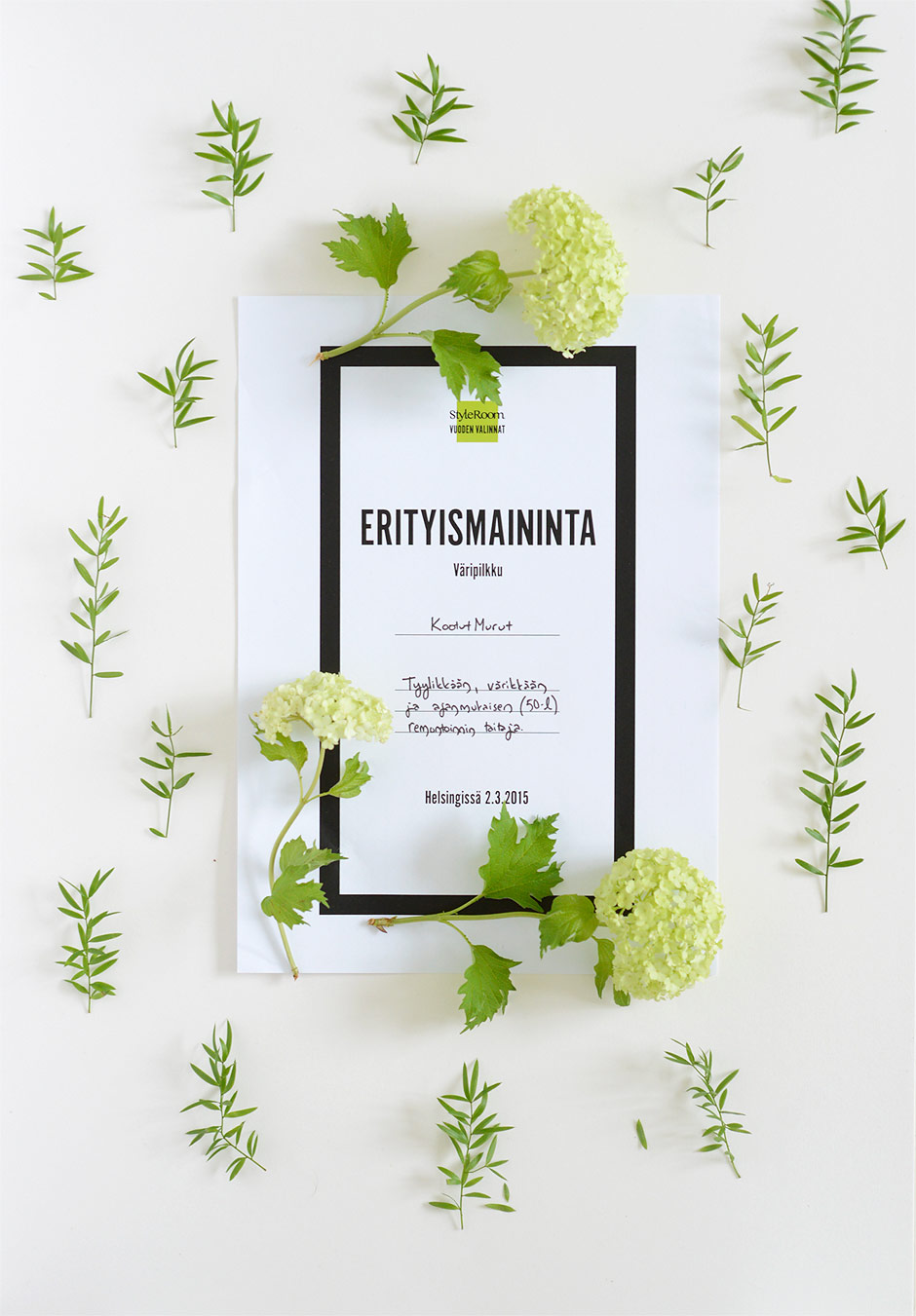 StyleRoom Awards And Happy Challenge
---
Last week two lovely surprises popped into the mailbox. First I got a special mention on the Finnish StyleRoom Awards for renovation that is stylish, colorful and matching the 50´s era. Thanks so much StyleRoom peeps! You can find me on StyleRoom at KootutMurut. I have uploaded especially before&after shots from different rooms, and also DIYs.
The second was a gift from Outi of Harmaata arkea, raw chocolate and a wooden dollhouse chair by Gepetto.fi. It's a part of a blog challenge to make someone happy and it sure made me smile. Thanks Outi!
In Finnish / Suomeksi
Männä viikolla tupsahti postilaatikkoon aivan ihania yllätyksiä. Ensinnäkin minut oli palkittu StyleRoomin 1-vuotispippaloissa erityismaininnalla Väripilkku – Tyylikkään, värikkään ja ajanmukaisen (50-l) remontoinnin taitaja. Ihan mahtavaa, kiitos StyleRoomin poppoo! Minut löytää siis sieltä nimellä KootutMurut. Olen ladannut sinne varsinkin ennen ja jälkeen -kuvia eri huoneista.
Harmaan arjen Outilta sain pienen lahjan ilahduttamishaasteen muodossa, raakasuklaata ja Gepetto.fin koottavan nukkekodin tuolin. Kiitos sinnekin! Nyt puolestani haluaisin ilahduttaa ja haastaa Twilight Colan Junen. Alla säännöt. Mites on June, lähdetkö mukaan?
Kirjoita blogiteksti, jossa kerrot säännöt ja haastat mukaan valitsemasi bloggaajat (päätät itse määrän)
Kun haastamasi bloggaaja lähtee mukaan ja julkaisee haastebloggauksen blogissaan, laita ilahdutusasia vireille. Voit ilahduttaa bloggaajakaveria sinulle sopivalla tavalla esimerkiksi postittamalla hänelle kirjeen, kortin, pienen herkun tai jotain omatekemää. Ilahduttaa voit vaikkapa kommenttien tai sähköpostin välityksellä!
Voit tottakai ilahduttaa myös haasteessa mukana olevia bloggaajia, mutta silloin haastetun ei tarvitse enää itse haastaa uusia kirjoittajia.