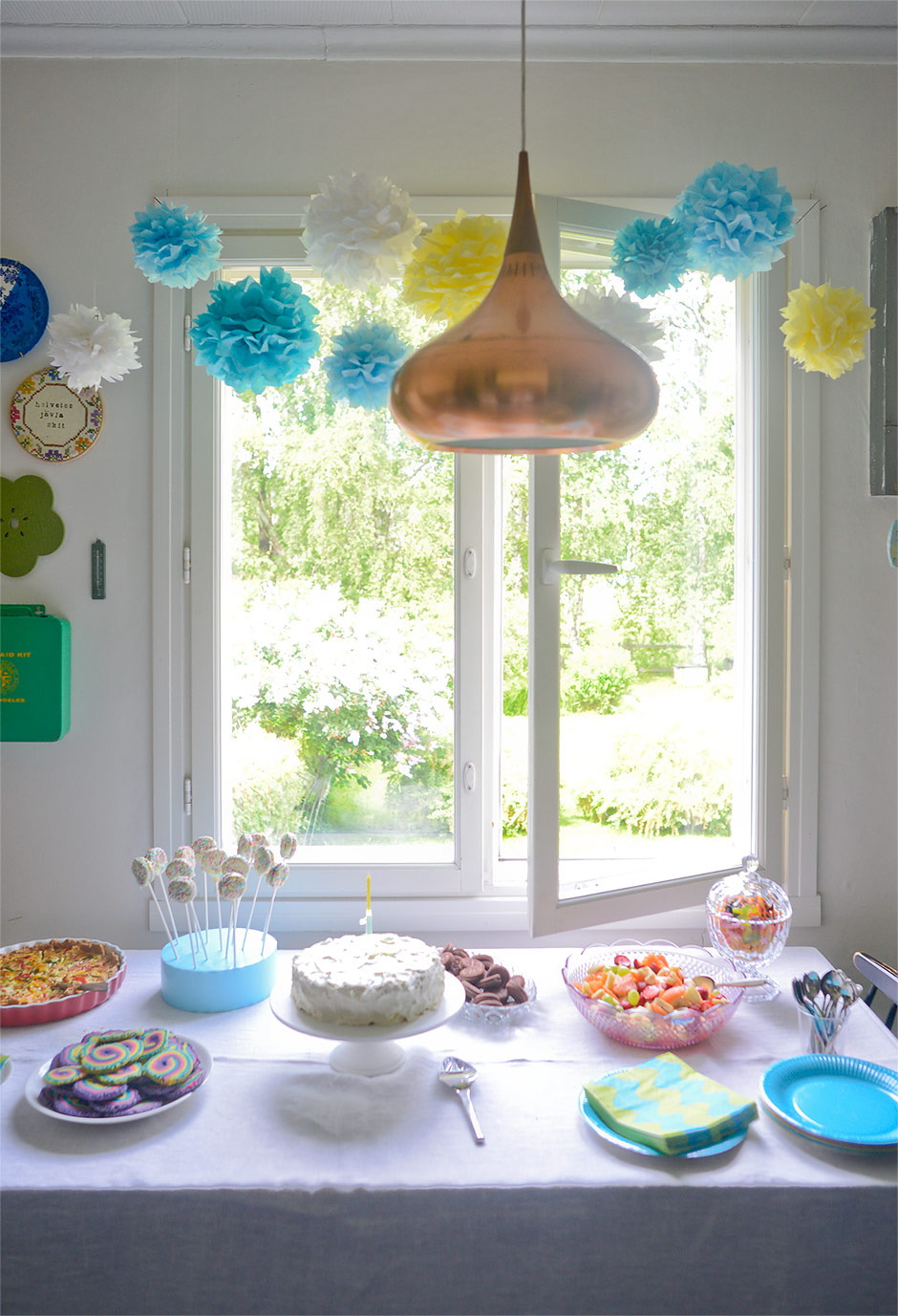 Rainbow Party for My Son's First Birthday
---
On Sunday we celebrated my baby boy's first birthday. I guess he's not a baby anymore! We had to postpone the party twice as we were ill but third time's a charm and so we finally got to partay. The theme was rainbow with rainbow layer cake, rainbow cookies and Domino (kinda like Oreo) cookie pops.
I made the pom poms as a garland last year for my son's christening and now just tweaked them a little.
Can you believe the 3,5 year old big brother cut almost all of the circles for the bunting? He was so happy to help, he cleaned and baked too!
Who got the last piece?… Ummm… All I can say is it was delicious ;)
In Finnish / Suomeksi
Sunnuntaina juhlittiin meillä vaavin 1-vuotissynttäreitä. Paitsi että ei ole mikään vauva enää! Juhlat piti kahdesti lykätä, koska sairastelimme niin paljon, mutta kolmas kerta sanoi toden ja pääsimme juhlanviettoon. Sateenkaari päätyi teemaksi Kinuskikissan sateenkaarikeksien inspiroimana, ohjeen löysin Unelmien Talo&Koti -lehdestä. Myös sateenkaarikakun taikinan tein Kinuskikissan oppien mukaan, tosin hiukan muutellen. Keksitikkarit on valkosuklaalla kuorrutettuja Domino-keksejä.
Pompomit olivat vielä tallessa ristiäisten jäljiltä, yhdistelin niistä palloja. 3,5-vuotias isoveli muuten leikkasi kuvioleikkurilla melkein kaikki kartonkiset ympyrät koristenauhaan! Oli niin innokas apuri juhlien valmisteluissa, että jestas. Kakkukynttilä osoittautui sangen hilpeäksi diskoyksilöksi, videolla näkyy paremmin.