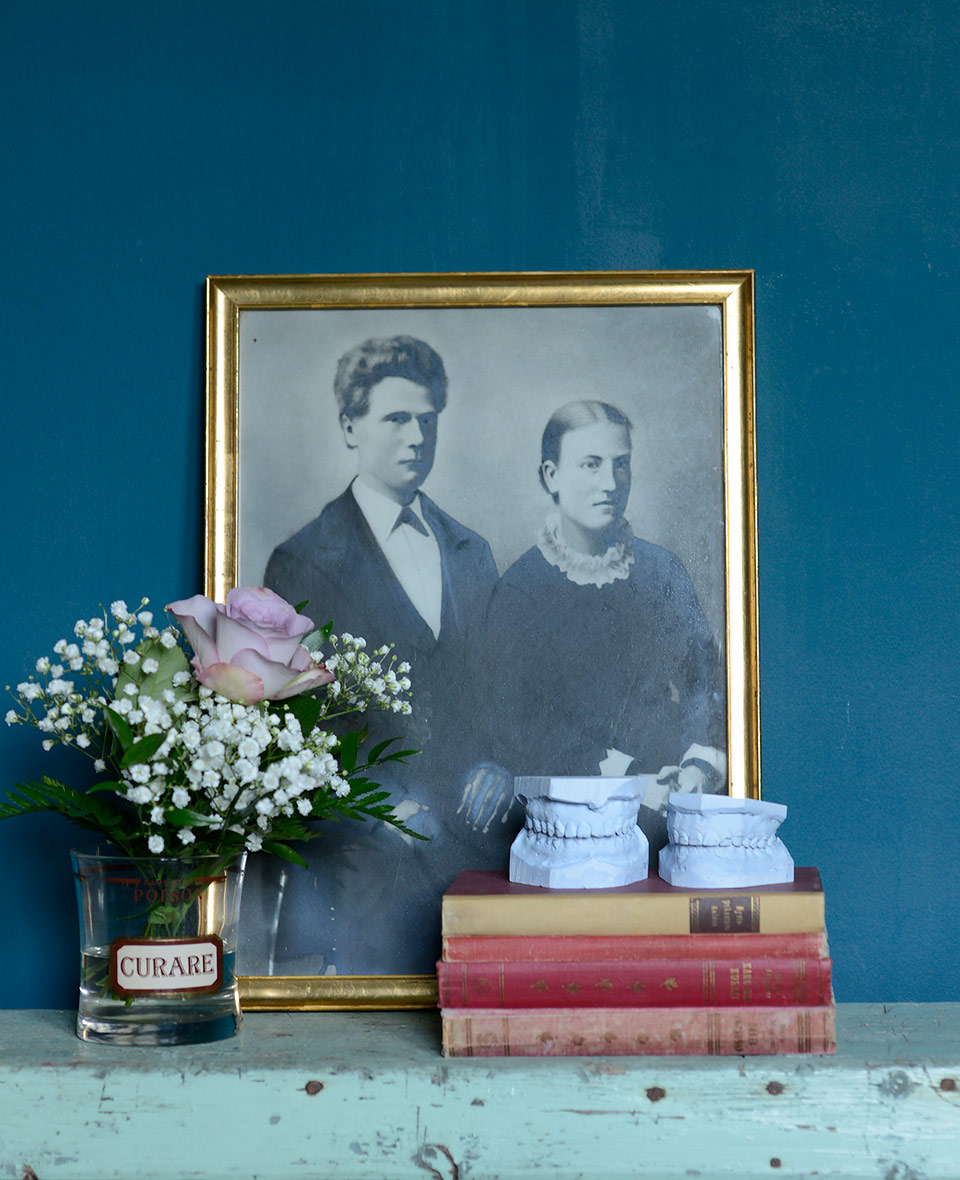 Happy Couple with Our Teeth
---
Oh boy, I was having so much (probably too much) fun with this. A while back I dug my and my husband's teeth out from the closets and put them on the shelf. Then I looked at them, and felt they needed something. More specifically, a vintage wedding photo. You know, those dark and gloomy portraits our grandparents used to take. My grandparents too, but I don't have it.
Last weekend we went thrifting and I found this perfect one! It's original from 1937, even the names and years they were born is written on the back! They used to enhance photos by painting in the old days (yes, photoshop before Photoshop) and I love how you can see the details how they've emphasized the eyes and ears and such. It's so superduper interesting seeing how things were done before.
In Finnish / Suomeksi
Minulla oli varmaan vähän liiankin hupaisaa näitten kuvien kanssa. Joku aika sitten kaivoin minun ja miehen hampaat naftaliinista (kaapista) ja laitoin hyllylle. Heti tuli sellainen fiilis, että niitten kaveriksi pitäisi saada vanha hääkuva. Tiedättehän niitä isoäidin aikaisia, synkkiä ja mustavalkoisia? Minunkin isovanhemmista on olemassa sellainen, mutta valitettavasti ei meillä.
Viime viikonloppuna kirpparilla törmäsin sitten tähän, ja pakkohan se oli saada. Bonuksena takapuolelta löytyi merkintöjä. Kuvaamon leima ja kuvausvuosi (1937) ja vieläpä henkilöiden nimet ja syntymävuodet! Se on siis alkuperäinen eikä uudempi kopio. Vanhoja kuvia käsiteltiin maalaamalla niiden päälle. Tästäkin näkee, miten silmiä, korvia ja muita tärkeitä yksityiskohtia on korostettu. On kyllä aivan supermielenkiintoista.