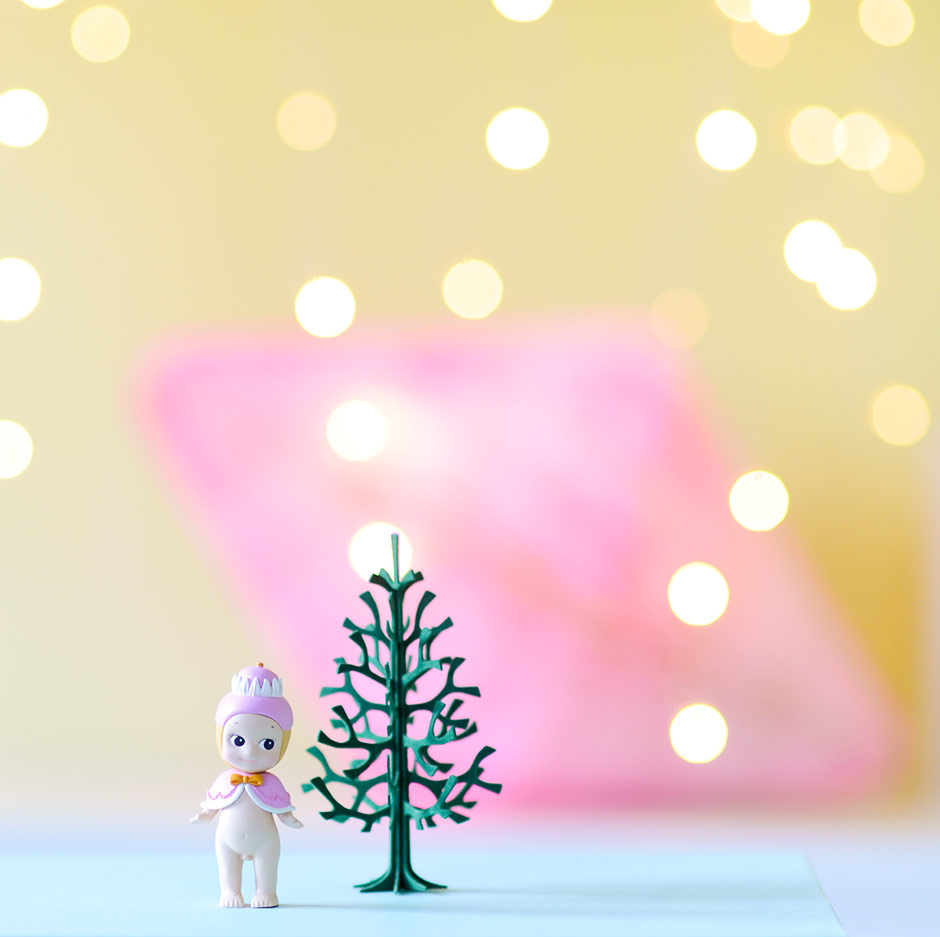 Tips And Tricks for Styling A Holiday Photo
---
As we all know photo cropping is a home blogger's best friend. Why clean your place when you can just dump the mess outside the photo frame. But that's not always enough for photo styling, sometimes you wish to build a certain type of picture. When I style a photo, I think mostly about the feeling I want to convey. I think about colors that go together and objects whose form and story support one another. When I style and shoot for a magazine I make up a story, or a set for a story, for example a kids room in the middle of a play or tea time on a porch.
The starting point of this photo was the beauties I wanted to photograph for the blog and Instagram, Sonny Angel and Lovi tree. The tree was on our living room shelf next to the pink honeycomb decoration you can see in the background. I liked the tree next to it, but had I taken the shot right then and there it would have been flat. I wanted to bring more depth by leaving the honeycomb blurred in the background and bringing the tree and Sonny Angel to the front. So I put them on a stool and moved them forwards.
Because it's holiday season I wanted to add some fairy lights. I wanted them to have the blurry bokeh effect, too so I taped them to the shelf with masking tape.
At that point my set was in pretty good shape, but I noticed the height wasn't right. The tree and Sonny Angel were too low. I added a cartboard box and a pack of toilet paper beneath the stool. Yes… A professional studio might have had more professional equipment… Anyhow, now my set was just right and I managed to get the photo I wanted.
At this point I looked around and was a bit amused how crazy and different reality looked from my photo. It wasn't like I was just hanging out at my place and snapped a photo as I walked by!
Here's the photo before and after I edited it in Camera RAW, and below after cropping in Photoshop.
So that's the story behind one photo. I thought you'd like to hear, maybe you can get some ideas for styling yourself. Or you can just get a healthy dose of realism behind beautiful blog pictures! (Even though it is a bit embarrassing to show you the house as it is.)