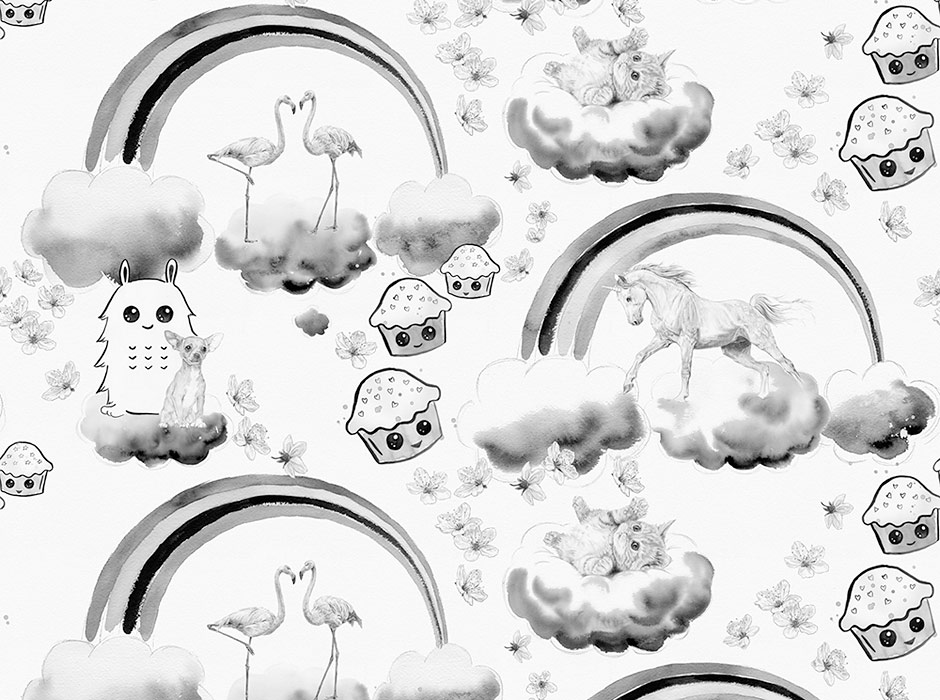 Designing Your Own Wallpaper
---
We finally got the wallpaper from #unelmatapetti competition up on the wall. Phew! It's designed by me for a competition by Rautakesko, Wallvision and Metsä Board where 12 bloggers were chosen to design their own wallpaper. Our designs were digitally printed for us, and after a wait that seemed like forever (one month) it's finally here. Later in January you'll get to vote for your favorite, but now I'll tell you more about how to make your own pattern. You see, this was my first time and it was super interesting, so I thought you might want to give it a try too.
Thanks to digital technology pretty much anything can be printed on wallpaper. Photographs are best known, but you can draw, paint or even write your design. I decided to use pencil and ink for mine, as they are familiar techniques. Initially my idea was to make oversized flowers and I sketched loads of them using Pinterest as source for reference photos. BTW, (wo)man's best friend for searching images. But after several versions of sketched florals on "walls" I realized they're just not our style. And when I say sketching I really mean rough sketching, I only spend a few minutes on each image.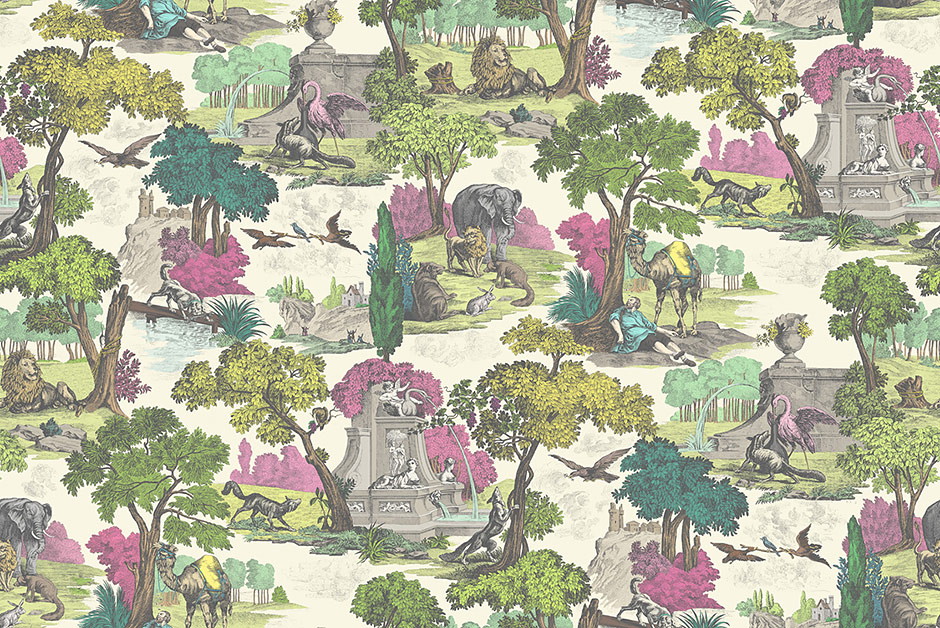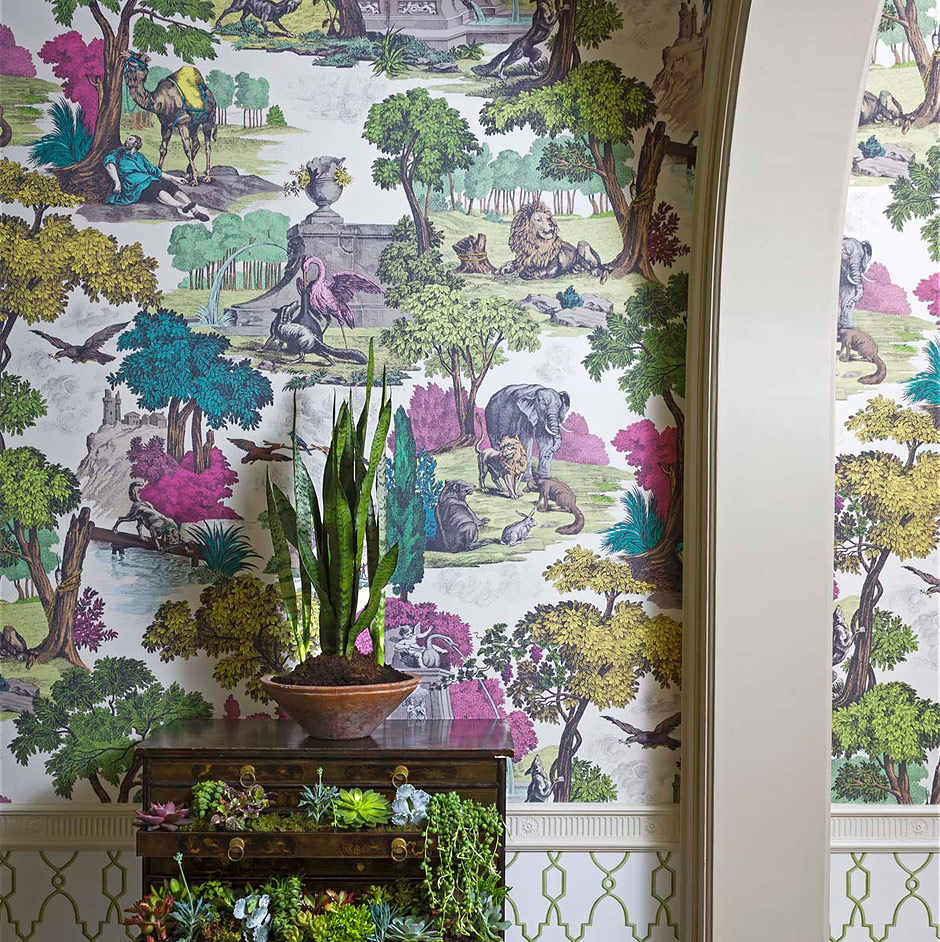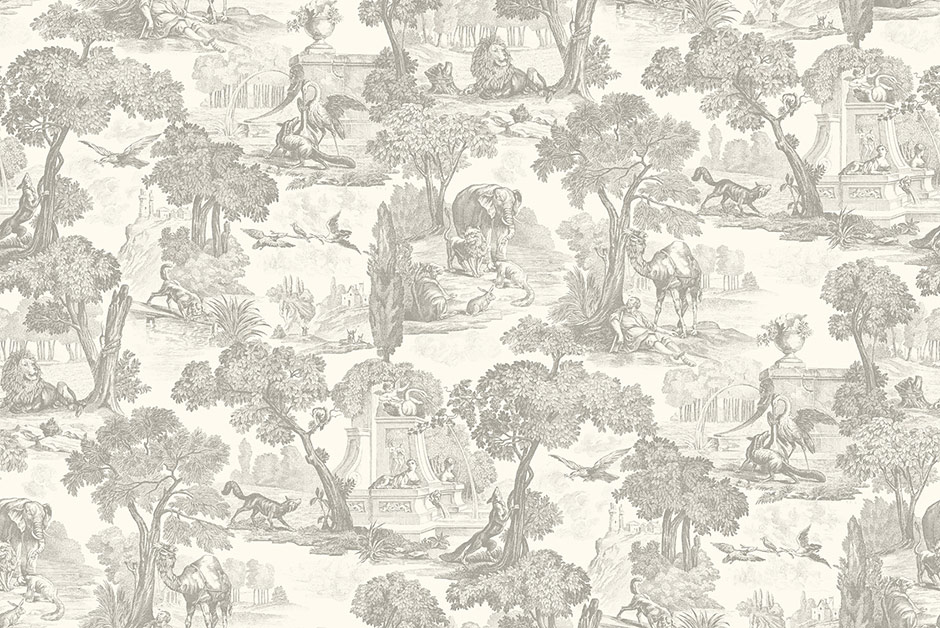 For a long time I've dreamed of toile de jouy type of wallpapers and all of a sudden it hit me I should be making one of my own. My husband suggested unicorns and Barbie dolls and – as the obedient wife I am – that's what I did. Well, the Barbie dolls didn't make it to the finished product but unicorns and other wondrous creatures did. My main inspirations were La Musardiere by Manuel Canovas, photo below and Versailles Grand by Cole & Son, the colorful toiles above, but I made a modern version that looked like me.
Although the image was printed according to exact measures of our walls, I wanted to make a seamless repeating pattern. Mainly because I didn't know it would be printed that way… But I'm happy I did. You can find instructions online for making a seamless pattern, this is what I followed. At first I studied making the pattern from existing designs. I studied different wallpapers to see how the pattern continues from one roll to another, from up to down. If you have Photoshop or similar software, you can tile the pattern to see how it looks repeated vertically and horizontally. Or, you could print 3-4 out or just use traditional pen and paper to draw it. Studying existing wallpapers helps you tremendously if you are just beginning. After that you can sketch your own pattern in a similar manner.
In my sketches below you can see the evolution from initial floral sketches to the first version of toile, that I made following the structure of La Musardiere.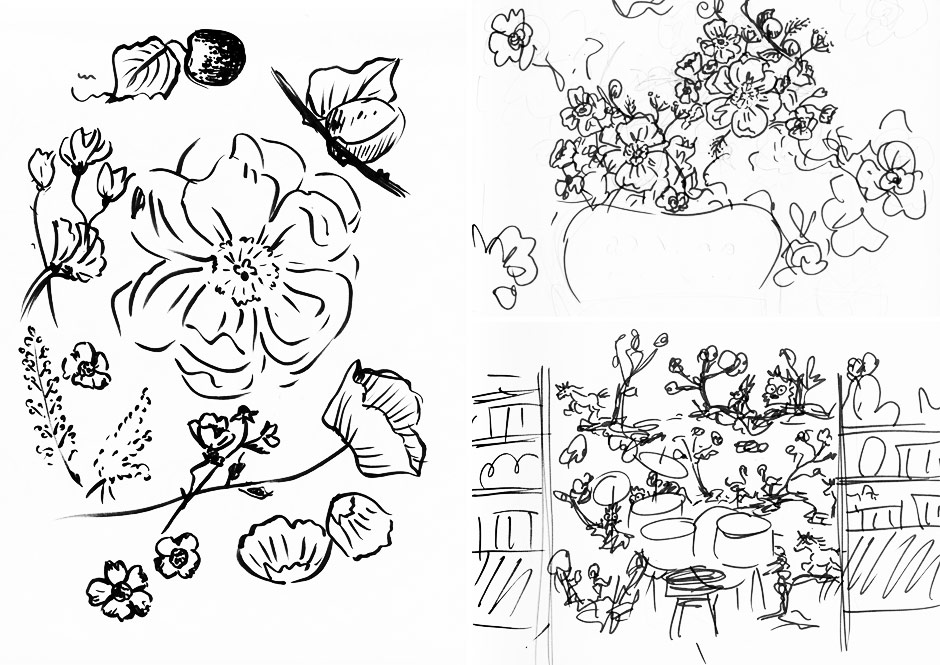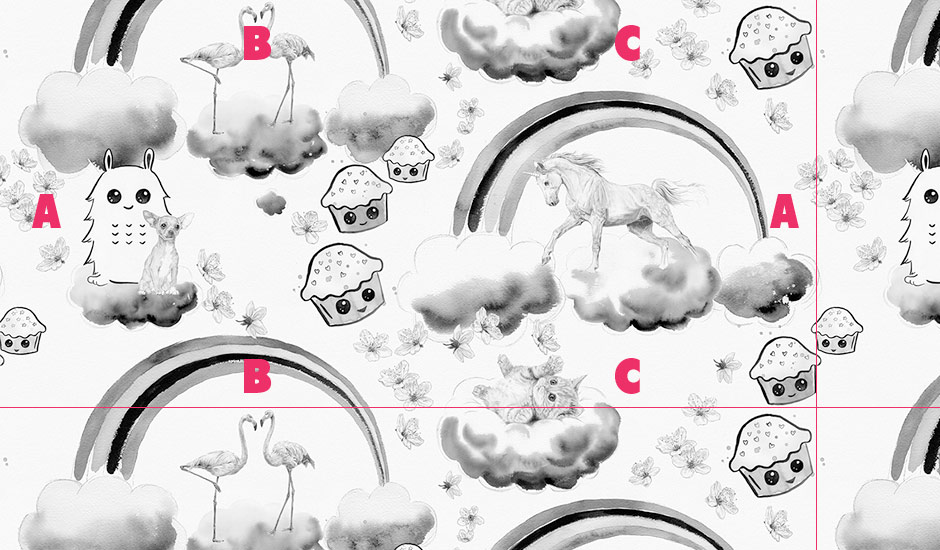 Above is the pattern and how it blends on each side to the duplicated patterns.
After you have your pattern roughly figured out, it's time to decide on the scale. It's good to use plain old measuring tape in the space you're going to hang the wallpaper to estimate the right size. You can also photograph the space and use Photoshop or similar to make a mockup of the room. This was an eye-opener for me, the pattern needed to be twice as big as I thought to achieve the oversized look. The size ended up being 180 cm x 90 cm.
Now that all the planning is done, you can just go ahead and execute it! I drew and painted mine, scanned and put it together in Photoshop. You need to make the resolution large enough for printing. In mine it was 150 ppi, but it's good to check it out with your printers. I believe mine was printed at Mr. Perswall. At least they offer wallpapers from your own image, made to measure. I was really happy with their quality, the paper feels and looks lovely.
We have our wallpaper up on the walls (more photos to come, you can see work in progress shots here). Next step, rearranging furniture. I have all sorts of ideas, let's see what the husband thinks of them!