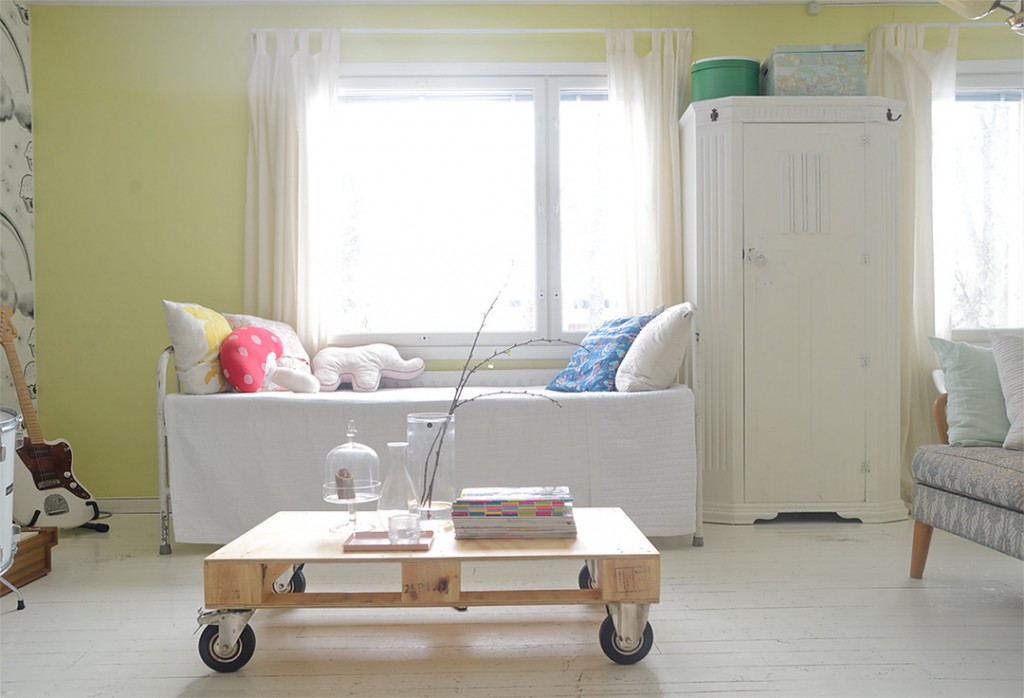 DIY Coffee Table from A Plywood Pallet And Casters
---
For quite some time we've had a plywood pallet that Panu brought from work in the basement, waiting for something to be done. I wanted to make a coffee table but Panu wasn't sure, he thought it'd be too low. But after a year of negotiating he finally came to like the idea, or at least accept it. Things don't move fast in our household anyway. You might have noticed the table already in January, but back then it wasn't actually finished. Panu just attached the casters so I could use it to style my photos :)
So what did we do after adding the casters (and shooting photos)? Well first, the pallet was sanded properly. Especially the wooden blocks between the plywood were full of sticks. Not good when you have little kids. When the surface was smooth it was cleaned and coated with Osmo TopOil oil-wax. It's what we have used on our kitchen counters and we've been really happy. It keeps the tone of the wood almost the same, just a little bit darker, and it repels water.
Raw wood requires two coats of oil-wax. After the first coat has dried the surface needs to be sanded again. After the second coat you don't necessarily need to sand again, just polish with corrugated cardboard. It's basically like sanding, but with the wavy side of the cardboard. I got an assistant to help me with the difficult bits.
For casters we chose two regular ones and two with wheel brakes. We didn't want the boys to start using the table as their vehicle!
I really like the fact that the table isn't as dark and massive as the previous, that we made of an army surplus trunk. The room feels more open and spacious. The wooden tones of plywood go so nicely together with all my pretty pastels, like this new pale pink tray by Nur that I got from MIA Design. That's where I also got the large House Doctor vase holding the cherry branches and the light green cushion cover. I also like that we managed to save the stamps on the pallet, they bring an industrial vibe to the table.