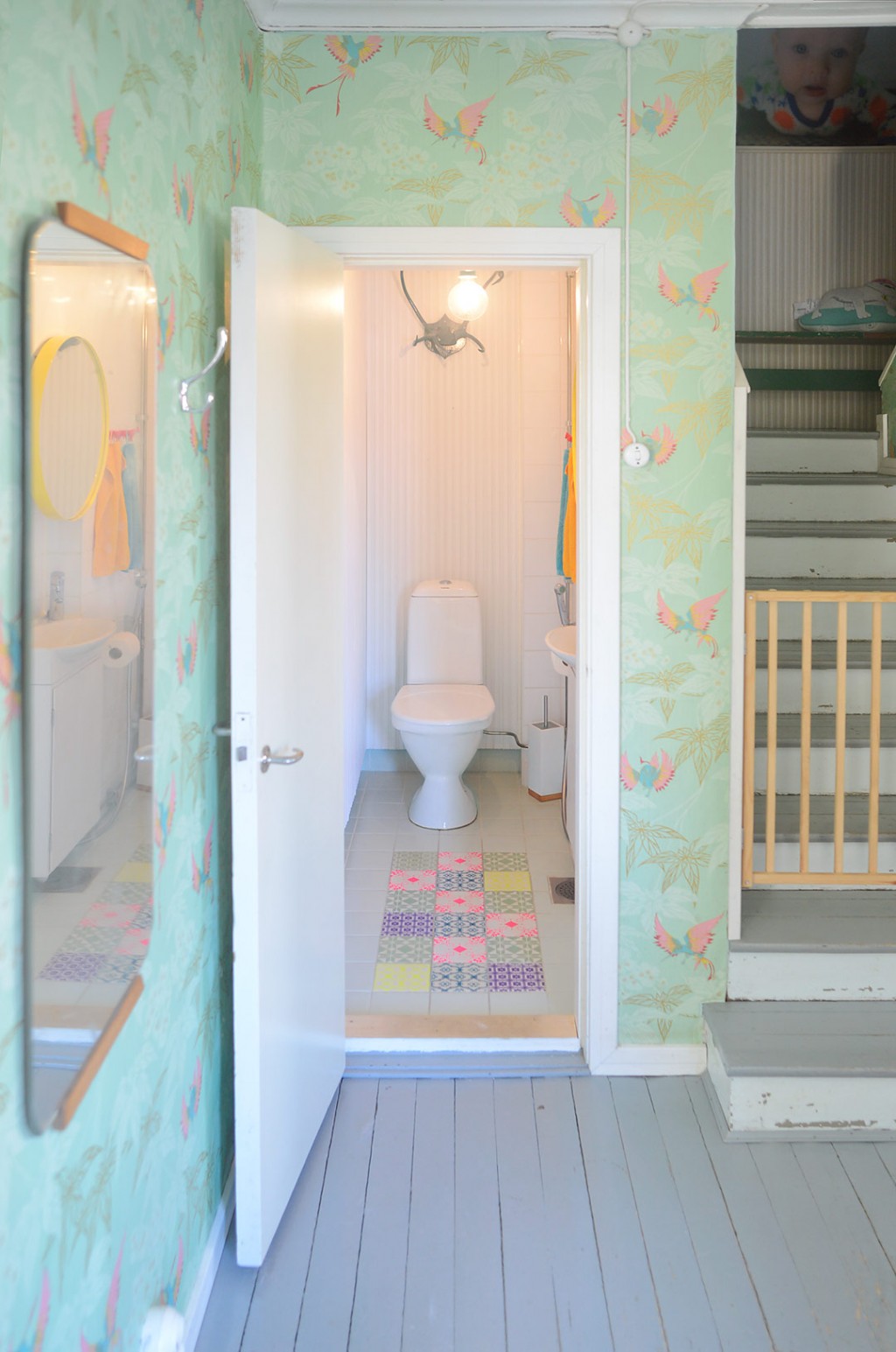 Peek into Our Toilet
---
Today I welcome you to take a peek into a very special place I haven't shown before. Go ahead, take a look: it's our loo (or half bath as the Americans say). According to my photo archives its renovation was nearly finished almost two years ago, but a couple of things were left hanging and that's why I haven't shown it here. But I doubt they'll ever get done so I decided to just do it. So here it is – one of my favorite rooms – the loo.
I had all kinds of wild plans for the bathroom sink, tap and cabinet. But when I bumped into ARTTILES on Pinterest all other plans were ditched and the design was built around the tiles. Actually it was really easy (well not easy, but let's say clearer) to choose everything else when you knew what the main element was. I still marvel at the tiles every time I go there. I really wasn't joking when I said it was one of my favorites. It's a pastel eye-candy that makes you smile.
If you'd like, you can have a look what kind of drawings and moodboards I made for the loo beforehand.
The reindeer antlers were found at the attic years ago. Panu made the backpiece from glulam after my drawings and I painted them. They were initially in my home office (ages ago, back in 2009!) and later moved to the livingroom. I like to recycle things even inside our house. When you repaint them or just give them a new environment it changes the way they look and feel.
The cabinet below the sink is DIY. We hired a professional to renovate the bathroom and he made the framework from glulam and Panu made the doors from recycled materials. They were modelled after our 1950's kitchen cabinets. We were going to use these retro 60's style metallic handles we found at a flea market but they are still waiting in storage. There's a 1,5-year-old vermin living in our household and we thought a door without handles is an excellent child safety lock.
We also made the towel hooks ourselves. I've been collecting plastic toy animals with the idea that I'll make something out of them. These 4 were approximately the same size and fitting to be a rack. Making the hooks is quite straight-forward. You saw the toy animal in half, making sure that the parts you are using are about the same length.
First, spray paint them with white primer and then your chosen color. Toy animals are hollow, so you need to fill them with something, like a piece of wood and putty. Once the putty has dried, sand the surface of the back. Drill a hole into the piece of wood and glue a screw inside it. If the screw has a head it's good to cut and remove it.
Drill a hole to the wall as well. We put a small metal washer on the screw (between the animal and the wall) so that the paint wouldn't rub off to the wall.
As you can see in the photos, the room is really small so we bought small furniture. The sink is by Svedbergs and tap is Hansgrohe Talis. I like the oversized mirror cabinet (Svedbergs Jenny) above them. The mint and white tiles are from Pukkila.
Oh, and did I mention, the floor has heating! It's such a luxury when everywhere else we have drafty wooden floors. I'm telling you, I wear wool socks year around, except in July. And another thing I like: the color scheme of the foyer continues in the bathroom even though the style changes from decorative to more geometric. This is something that continuously makes me happy. It might sound silly, but on the other hand… Isn't it good if you can find joy in the simple things? ;)