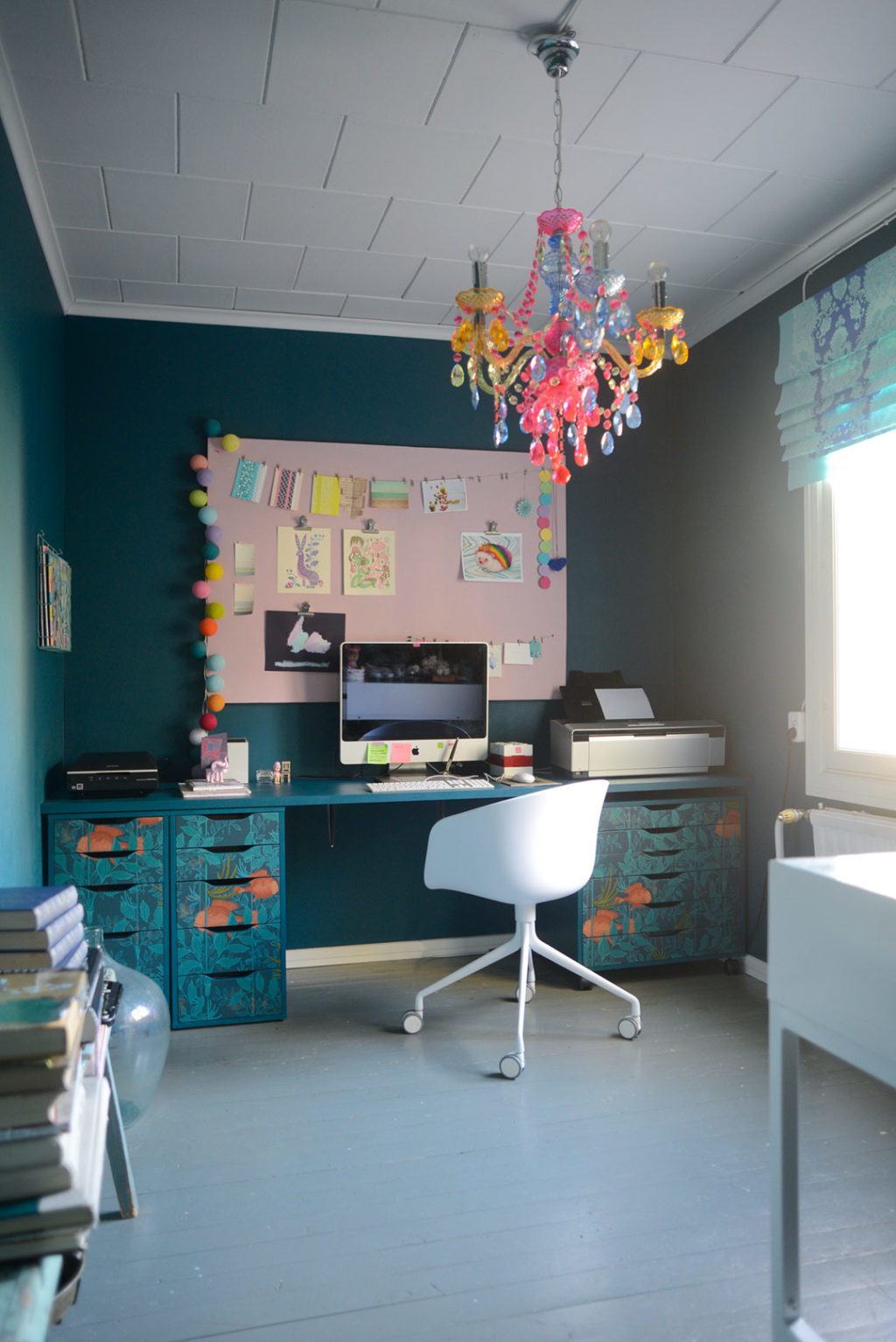 Ikea Hack: New Desk with Nautilus, Paint And Ikea Drawers
---
You've seen a glimse of my new desk in the home office post. I'm so so happy with it, it's much more practical than the old. And it doesn't hurt to look at the Nautilus wallpaper by Cole & Son.
The desk is made with Ikea Alex drawer units and glulam. On the other end there's two Alex drawer units and on the other there's one unit with casters. On each end and on the long side there are wood trims to hold the glulam board and three brackets on the long side to give it support as the desk is quite wide (250 cm).
I bought the Alex units before choosing the wallpaper so I chose white. But I like that the drawers are white inside, even if they needed more paint.
First the whole family took part in building the drawer units. Each to their ability, some building, some supervising (some documenting…)
I wanted to have clean lines inside so I taped the drawers with painters tape. We didn't sand the surface because we worried it would ruin the surface. But on hindsight we should have maybe washed them before painting.
First we painted with tinted paint primer and then 2-3 coats of furniture paint.
Panu is my wallpaper wizard. I'm so amazed by his skills.
He attached the pieces of wallpaper with wallpaper paste.
The Ikea Stödja flatware trays are a perfect fit to the smaller Alex drawer. All my little trinkets will stay in order now!
I still haven't read Marie Kondo (probably won't) but I spent days going through stuff in the home office. A pretty large amount was sent to recycling or even rubbish bin. It's so nice to have my drawers all sorted and everything at hand. At least for a while!