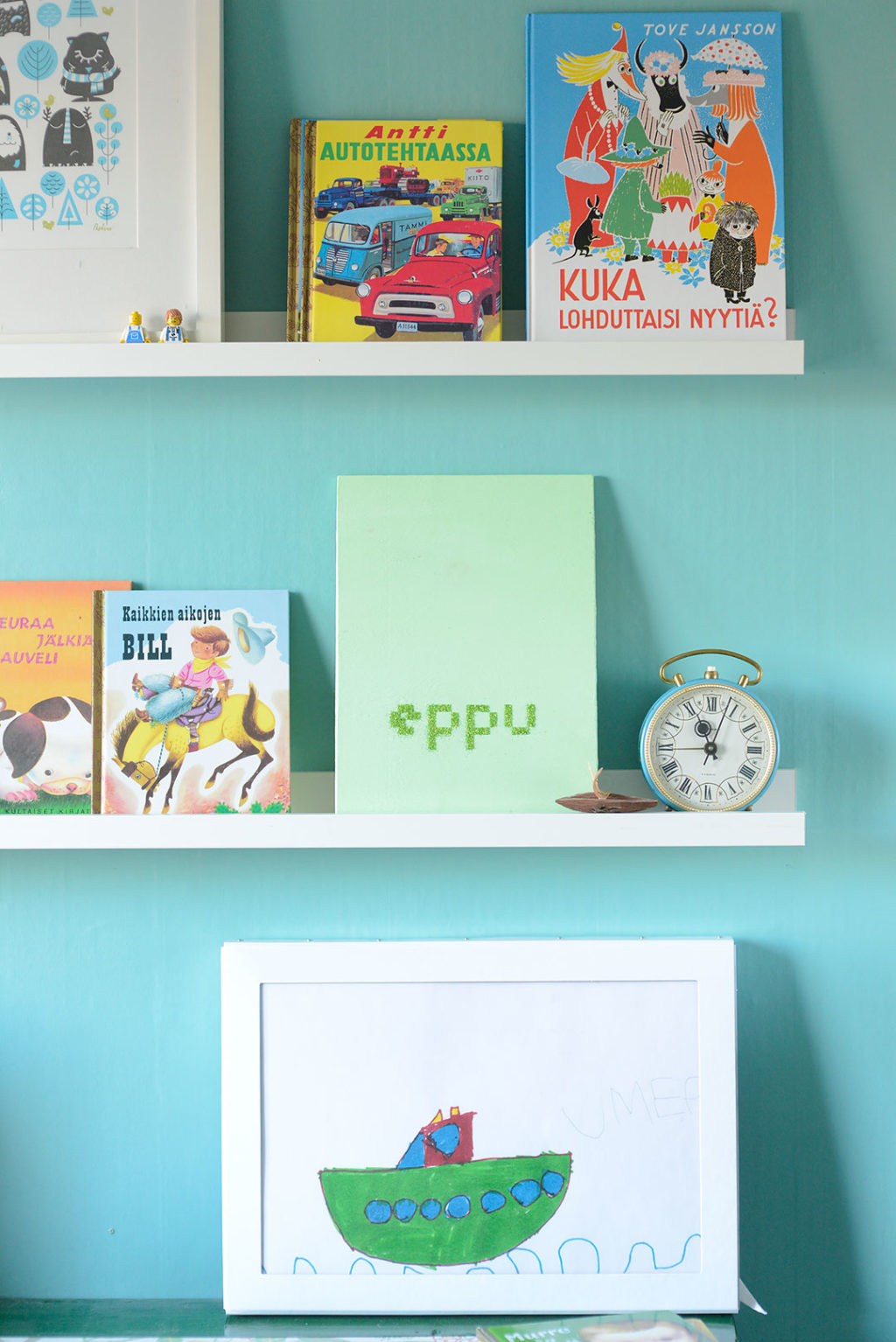 Cute DIY Glitter Art
---
Lue suomeksi / Read in Finnish
You can make cute little pieces of art from plywood and glitter. Your child's name or initial will make a lovely piece for kids room, also simple graphics would look great. As you might know, I'm a fan of pastels, but you could make also a black & white vesion, or leave the plywood to show and use black or white glitter.
Materials:
Plywood
Saw
Sanding paper
Acrylic paint and brush
Spray glue
Glitter
Furniture varnish / lacquer
Heavyweight printing paper and a printer
X-acto knife and self-healing cutting mat
Hooks and small nails for hanging (optional)
Instructions:
Decide on the size of the artwork. The bigger is 20 x 30 cm (approx. 8 x 11″) and the smaller are 12 x 12 cm (4,7 x 4,7″). Saw a piece of plywood and sand the edges.
Paint the piece of plywood with acrylic paints. Let dry.
Print (or draw) your design on heavyweight printing paper. The font used on the name is 04b03 and you can download it for free here. You can find great free fonts online, one source that I like is FontSquirrel.
Cut out your design with an X-acto knife. If you have letters like P or R save the center part of the letter to attach later.
Tape your paper to the plywood with painter's tape. Attach the center parts of letters if needed with double-sided tape, but make sure the glue isn't too strong, otherwise it will be difficult to remove. You can also use self-adhesive mounting squares used in photo albums and scrap books, they are easy to remove.
Glue a coat of spray glue and sprinkle a layer of glitter on top. Repeat until you have an even surface of glitter. You need to add enough glue in each layer to make sure the glitter stays put. Add one more coat of glue. Notice! Make sure you cover your working area carefully, spray glue spreads easily on larger areas.
Carefully remove the paper from the plywood. You can use the X-acto knife to remove the center parts and also to correct small mistakes. Let the glue dry.
Add 1-2 coats of furniture varnish.
If you want, you can nail small hooks behind the plywood for hanging. Or you can set it on a shelf or dresser.