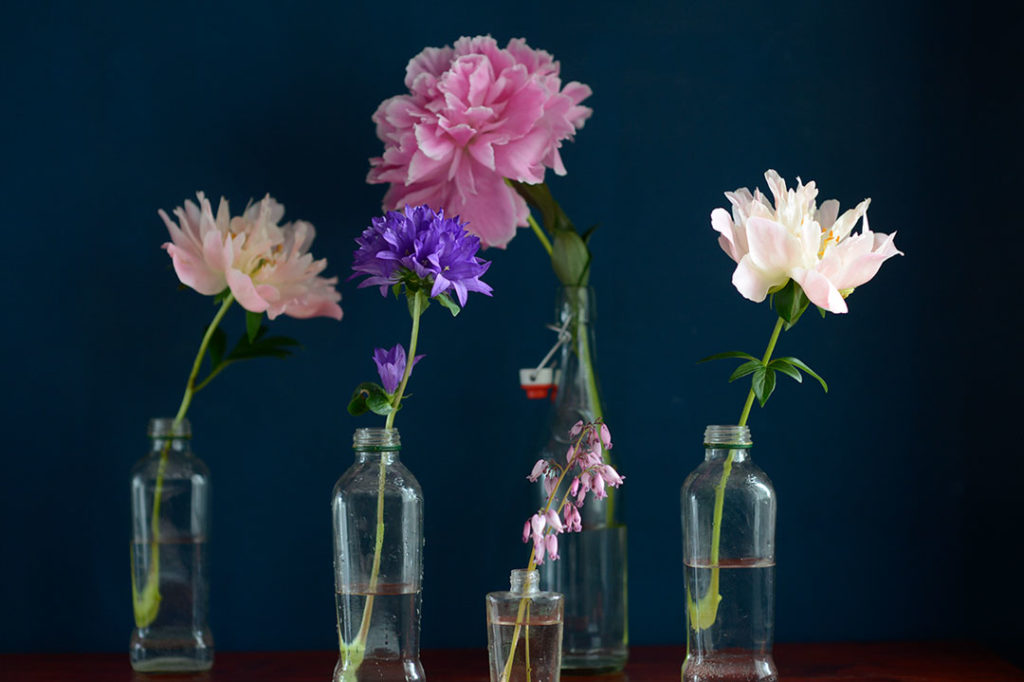 Wildflowers and Perennials Make for A Beautiful (And Free) Flower Arrangement
---
Lue suomeksi / Read in Finnish
There's still summer left. And flowers in the garden or in the wild, where you can pick them to beautify your home. This idea is so simple I don't even know if you can call it DIY. I've saved old lemonade and olive oil bottles because they make for excellent vases for single flower stems. With enough flowers you get a beautiful arrangement.
I cut peonies, a clustered bellflower and bleeding hearts for my flower arrangement. It's amazing that with just five flowers you get a wonderful combination. If you don't have a backyard of your own, you can collect wildflowers as well. You can also give a store bought bouquet new life with wildflowers. Just put each flower stem into its own vase and add wildflowers to accompany.
Cut the stem at an angle so the flower can drink more water. For example lilacs will last longer if you cut an X at the end of the stem. Flower food for cut flowers work also for wildflowers. Change the water daily, unless you've given them flower food, then only refill the water. If the water looks cloudy, it should be completely exchanged for fresh. Also re-cut the stems every other day.
And if you are picking peonies from your backyard, remember to shake them well before bringing them inside. They will most definitely have an army of ants occupying them that you probably won't want in the house. (But you will get some anyway, so be prepared.)