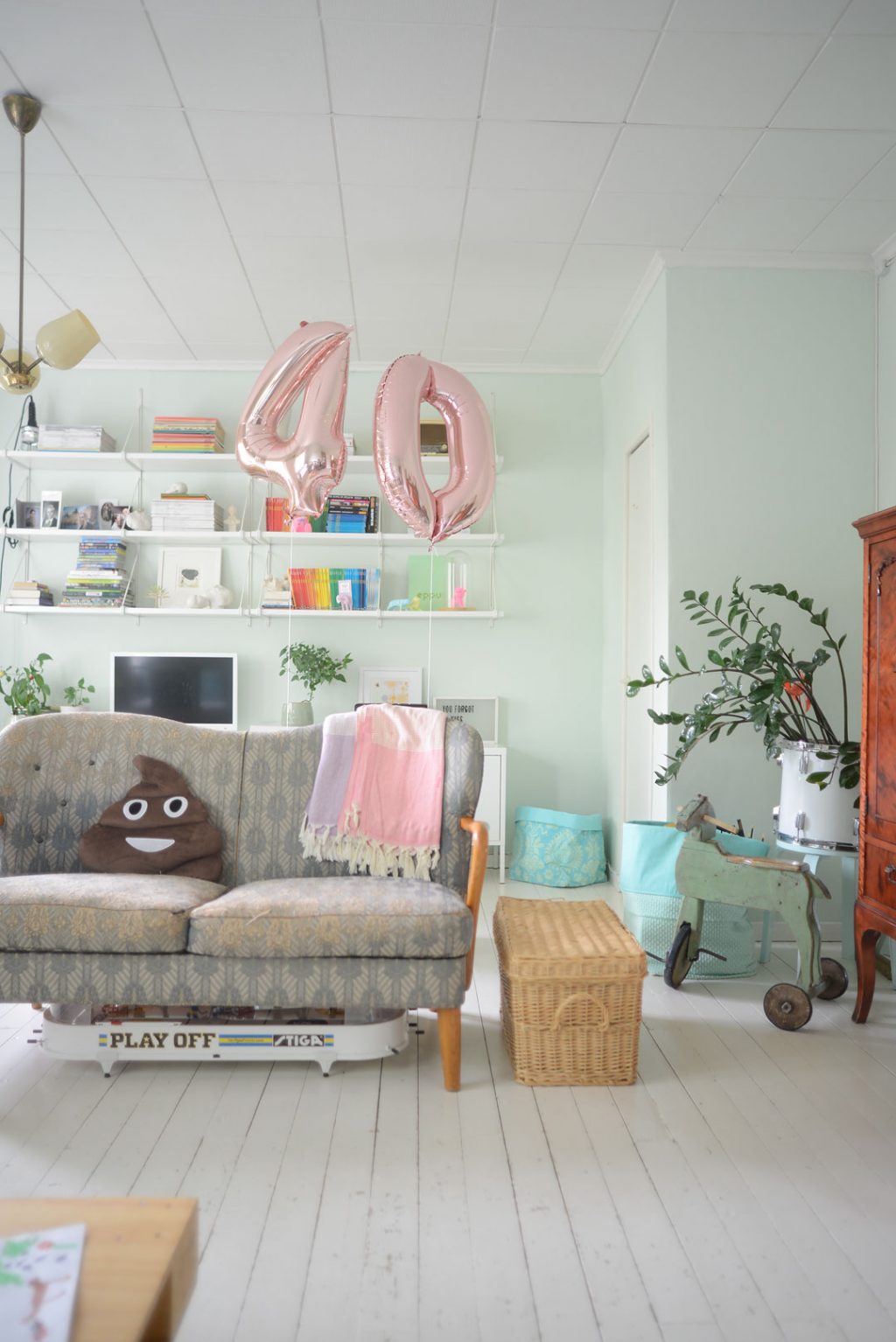 The Big 40
---
Lue suomeksi / Read in Finnish
It so happened that yours truly turned 40. Oh yes. The big 4-0. It did come with a minor crisis, not a midlife crisis, but an… age-related crisis. Maybe that's part of the reason I wanted to throw a party. Plus the last party I organized (if you don't count kids' birthdays) was our wedding and that was almost ten years ago. So it was about time.
I had planned on having just a casual get-together at our house, nothing fancy, nothing stressful, more like potluck style. But OF COURSE I stressed like crazy. For two week prior to my birthday I've been wiping clean cabinet doors, picking weeds, fixing the swing in the garden, you name it. (And it was so cold nobody would go out.) One thing that made it easier was ordering the cake, like I had planned on my tips for a stress-free party post.
The cake is by far the most gorgeous amazing cake this household has ever seen. Plus it's vegan and gluten free. We needed it to be dairy and gluten free so this was just perfect. It was made by Kahvila Tuokio in Oulu.
For once we had an instaworthy cake ;)
The paper plates, cups, napkins and wooden knives and forks are from Somiana.fi. The balloons are also from there. We only have basic white cups and plates – and not enough of them – so these were not only needed but also a super cute addition.
Now it's good to continue, a bit older but probably none the wiser. I'm happy that I started the new decade with a celebration. If you are pondering whether or not to throw a party, I'd definitely say go for it! Even just on a small scale. I actually started wondering why we don't do it more often. You don't even need that big of a reason for a party. It's so much fun to get together with your friends and family. I certainly hope I'll remember my own advice – and won't wait til I'm 50!