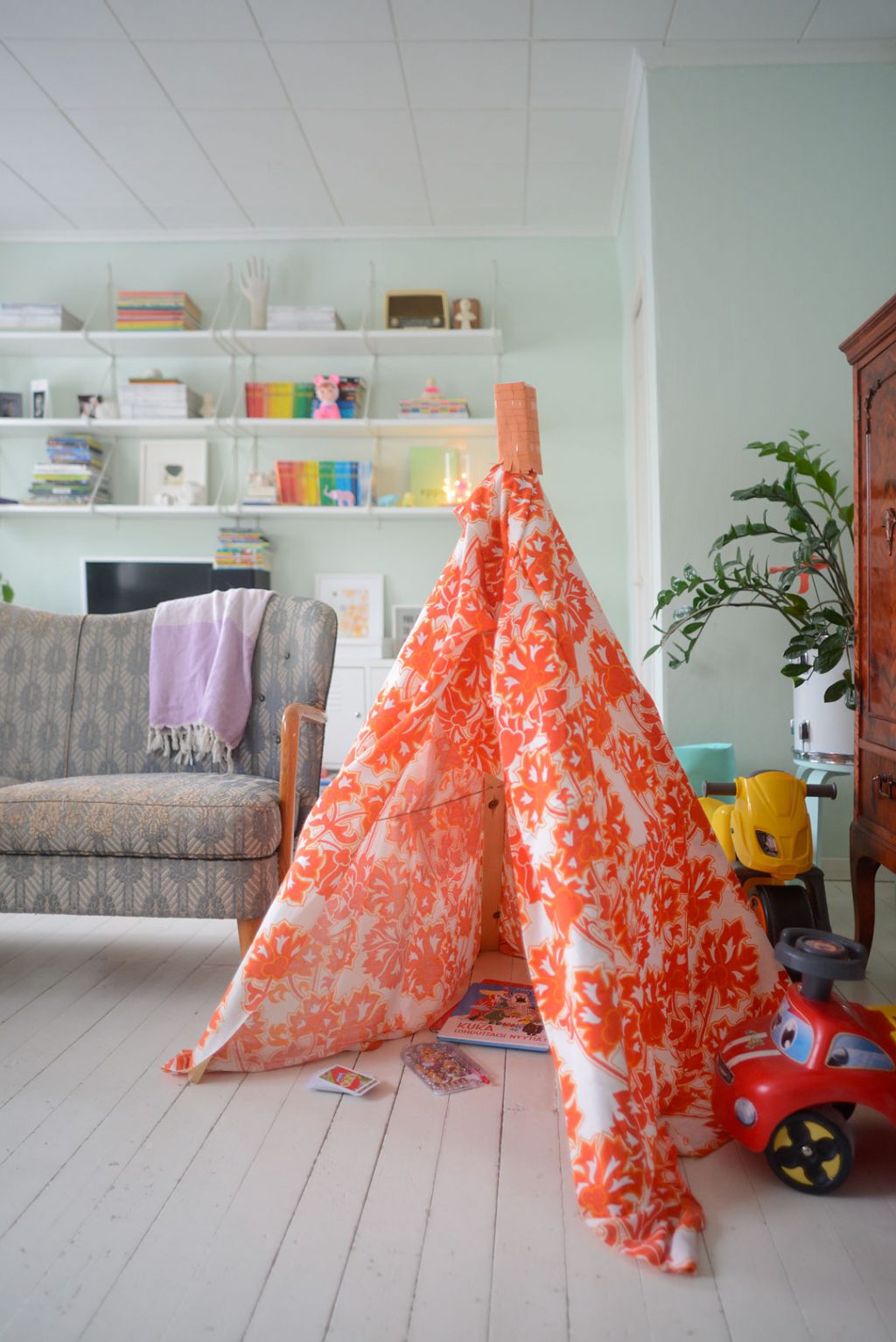 DIY Playtent for Kids
---
Lue suomeksi / Read in Finnish
There's still summer left! Panu made these playtents for the kids already some time ago. We have them in the living room, but in the heat of the summer you can also set them up on the patio or back yard. Making the playtent is pretty simple, you need wooden laths or trims and twine. I threw thrifted curtains on one frame and a colorful tablecloth on the other. If you are a more enthusiastic sewer, you could sew them into shape, but for us this will do.
Material needed:
4 x wooden laths or trims, 120 cm (47 inches) long
A saw
A drill
A knife
Sand paper
Twine
Fabric
Instructions:
Measure and saw the trims 120 cm (about 47 inches) long. Sand the ends smooth. Carve the upper ends rounder to make ends meet better.
Drill two holes for the twine on the top ends of each trim.
On two trims, drill one hole 30 cm (11,8 inches) from the top end. These will make the doorway. On the other trims, drill two holes 70 cm (27,5 inches) from the top.
Thread the twine through the holes. Start from the top and tie all trims together. Make sure the ones that make the doorway are next to each other.
Next, thread a twine through the lower holes. The distance of the twine from one trim to the next should be about 50 cm (20 inches). The length of the doorway twine is about 20 cm (8 inches).
Cover the frame with a nice fabric. And you're ready!
Thanks to the removable fabric and twines the playtent is easy to take down and put back up again.
Our kids wanted to decorate their playtents and made a chimney from an empty cream carton. Some orange drawing paper and brick pattern… And there's your chimney!