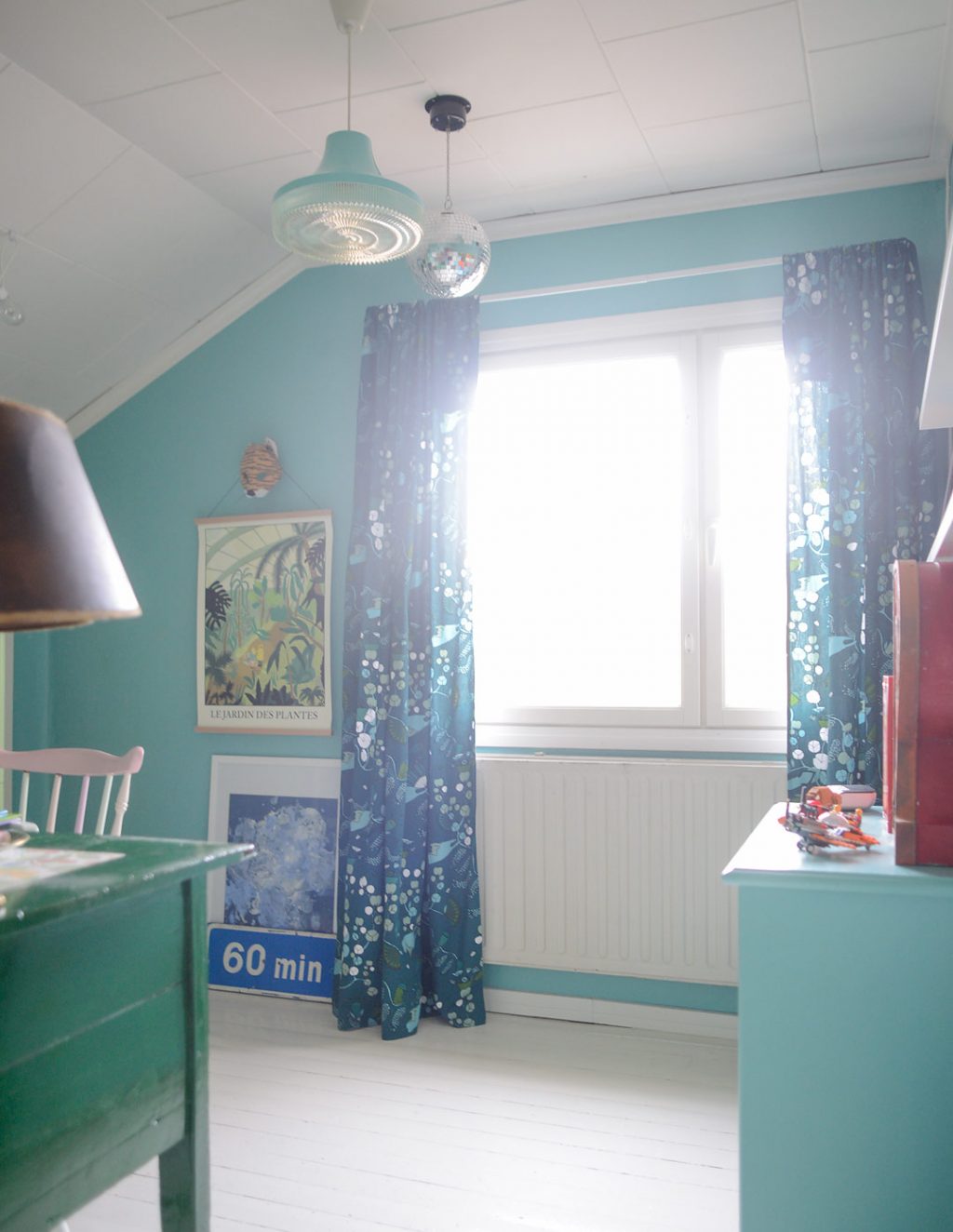 Kids Room Curtains for The Lazy Seamstress
---
Lue suomeksi / Read in Finnish
We have a sewing machine and I do know how use it, but it's not a pleasant chore. Therefore I always try to find the easiest solution for making curtains. Often you can't find ready-made curtains exactly the right length, so sometimes we've even ordered made-to-measure curtains if we've found a fabric we love. It's not an ideal solution on a tight budget, but it might be a better option than getting stressed and snapping at your spouse.
This time, however, we didn't have to go there. When we were looking at fabrics at the Finlayson store, the seller suggested that their tablecloths could be easily transformed into curtains. You just have to sew one edge. Such a great idea! Just one quarter of the amount of stress, much more bearable.
We were already already falling for of Finlayson's Smycke fabric. I had originally thought of a jungle theme for the boys' room, but with Smycke it turned into an underwater world. At first glance it seems that the fabric has beautiful underwater flowers and plants. But when you look more closely, you'll find that there are all kinds of plastic waste, disposable tableware and plastic bags. Smycke is also a collaboration with WWF. For every Smycke euro, 10 cents goes to saving the the Baltic Sea.
So there you have two Finlayson tablecloths hanging. They have been in use since last summer and we've been happy with them. One reason for changing curtains was that the kids room window faces east and the kids started waking up very early in the morning as the sun started to shine. We didn't want traditional blackout blinds. Smycke is made of thick dark cotton fabric and has driven the same thing. Now that the day is getting longer, it's needed again.
Another new addition was the Le Jardin des Plantes poster by Bailly Simon, which I found at L'Affiche Moderne. There's a bit of the jungle spirit now. I'm not bothered that it didn't go all as planned with one theme, the end result seems to be united anyway. The client aka. my kids were happy with the outcome, so I guess you could call it a success. What do you think?