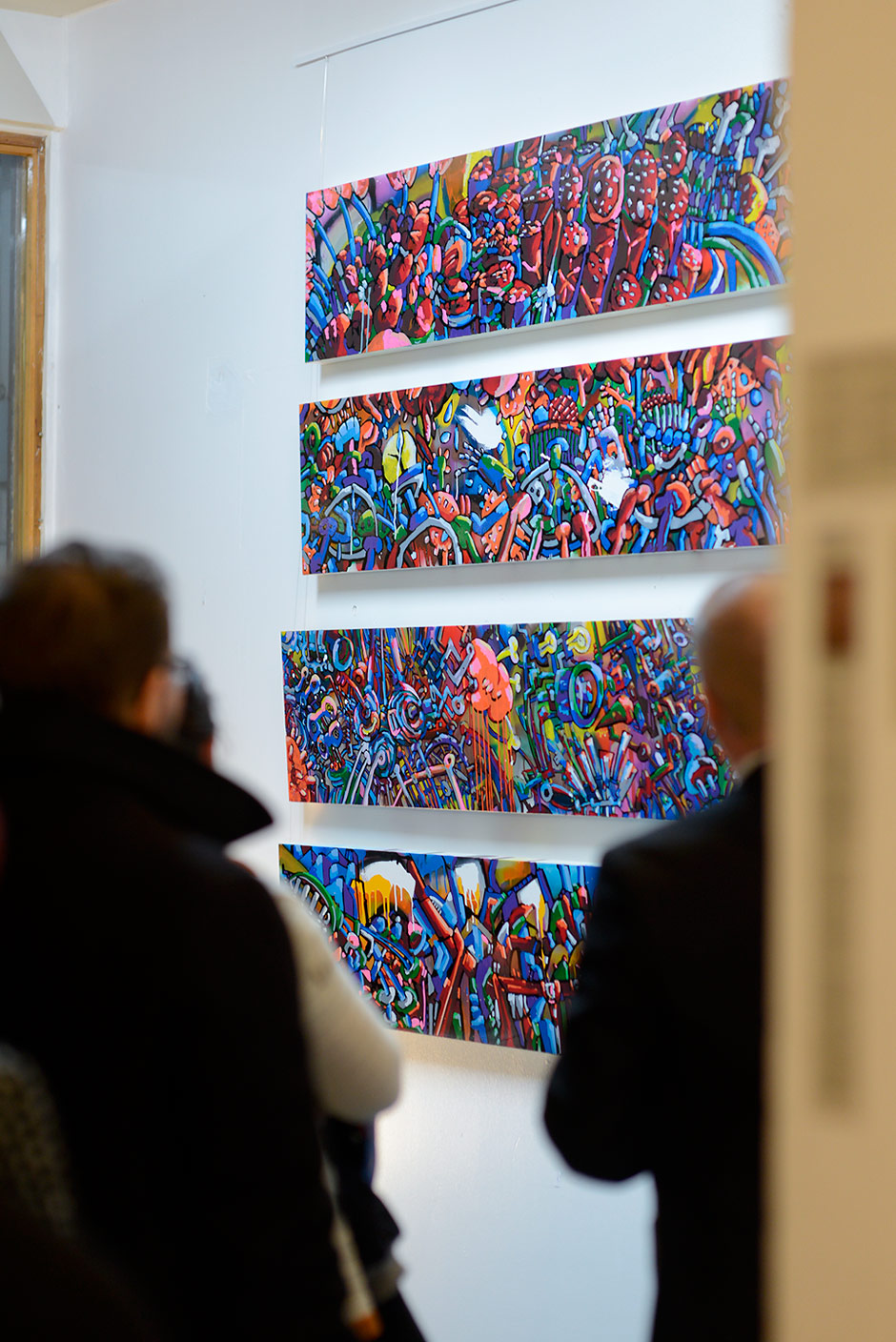 Petri Kuljun taidenäyttely Galleria Koomassa
---
Viime aikoina on tullut ulkoilutettua kameraa tavallista enemmän. Ihan hyvä sinänsä, sillä kotona on niin sotkuista, ettei täällä ole hetkeen viitsinyt kuvata. Nyt kaamera oli siis mukana Petri Kuljun taidenäyttelyn avajaisissa Oulussa, Galleria Koomassa. Galleria Kooma on Kooma-vaatemerkin kotipaikka, yhdistetty työ- ja näyttelytila.
En ole mikään taidekriitikko, enkä aina edes tiedä, ovatko Petrin työt abstrakteja vai esittäviä. Kuvat saavat puhua puolestaan. Mutta tykkään tosi paljon väreistä, joita hän käyttää, ne oikeasti hehkuvat. Töissä on myös yllättävä sisustuksellinen aspekti, niin kuin näyttelyn nimi The great adventures of ikea bookshelf vihjaa. Ne on nimittäin maalattu Ikean hyllyille! Ei olisi heti tullut mieleen. Maalit vaihtelevat Miranolista auto- ja spraymaaleihin, akryyliväreihin ja -tusseihin. Kuulostaa aika villiltä, mutta lopputulos on huikea. Aloin heti miettiä, missä meillä olisi tyhjää seinätilaa yhdelle Ikea-hyllylle. Ehkä on aika aloittaa talon deklutterointi… Ja sitten pitäisi vielä päästä miehen kanssa sopuun suosikista!
Jos olet liikut Oulun seudulla, näyttely on avoinna 12.12.2015 asti. Suosittelen käymään paikan päällä ihastelemassa!